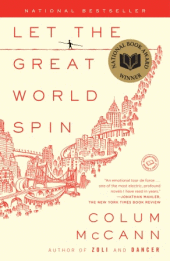 2009 NATIONAL BOOK AWARD WINNER
In the dawning light of a late-summer morning, the people of lower Manhattan stand hushed, staring up in disbelief at the Twin Towers. It is August 1974, and a mysterious tightrope walker is running, dancing, leaping between the towers, suspended a quarter mile above the ground. In the streets below, a slew of ordinary lives become extraordinary in bestselling novelist Colum McCann's stunningly intricate portrait of a city and its people.

Let the Great World Spin is the critically acclaimed author's most ambitious novel yet: a dazzlingly rich vision of the pain, loveliness, mystery, and promise of New York City in the 1970s.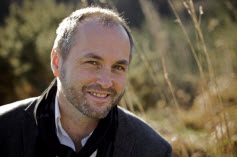 Colum McCann is the internationally bestselling author of the novels Let the Great World Spin, Zoli, Dancer, This Side of Brightness, and Songdogs, as well as two critically acclaimed story collections. His fiction has been published in thirty languages. He has been a finalist for the International IMPAC Dublin Literary Award and was the inaugural winner of the Ireland Fund of Monaco Literary Award in Memory of Princess Grace. He has been named one of Esquire's "Best and Brightest," and his short film Everything in This Country Must was nominated for an Oscar in 2005. A contributor to The New Yorker, The New York Times Magazine, The Atlantic Monthly, and The Paris Review, he teaches in the Hunter College MFA Creative Writing Program. He lives in New York City with his wife and their three children.
Colum McCann's TLC Book Tours TOUR STOPS:
Monday, May 3rd:  Stephanie's Written Word
Tuesday, May 4th:  S. Krishna's Blog
Wednesday, May 5th:  The Literate Housewife Review
Thursday, May 6th:  Savvy Verse and Wit
Friday, May 7th: Luxury Reading
Monday, May 10th:  She is Too Fond of Books
Tuesday, May 11th:  My Friend Amy
Wednesday, May 12th: The Brain Lair
Thursday, May 13th:  Diary of an Eccentric
Friday, May 14th:  Lit and Life
Monday, May 17th:  Book Club Classics
Tuesday, May 18th:  Beth Fish Reads
Wednesday, May 19th:  Book Chatter
Thursday, May 20th:  Evening All Afternoon
Friday, May 21st:  Brunette on a Budget
Monday, May 24th:  Ready When You Are, CB
Tuesday, May 25th:  The New Dork Review of Books
Wednesday, May 26th:  Life and Times of a "New" New  Yorker
Thursday, May 27th:  Nonsuch Book
Friday, May 28th:  Caribousmom