Check out this great book we're offering in December!
_____________________________
Book clubs will love this psychological thriller
inspired by a true story!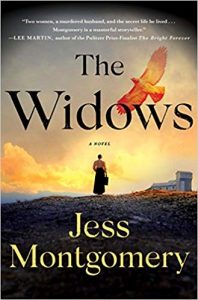 The Widows by Jess Montgomery
"The Widows kept me on the edge of my seat. Montgomery is a masterful storyteller." –Lee Martin, author of Pulitzer Prize-Finalist The Bright Forever

Kinship, Ohio, 1924: When Lily Ross learns that her husband, Daniel Ross, the town's widely respected sheriff, is killed while transporting a prisoner, she is devastated and vows to avenge his death.
Hours after his funeral, a stranger appears at her door. Marvena Whitcomb, a coal miner's widow, is unaware that Daniel has died, and begs to speak with him about her missing daughter.
From miles away but worlds apart, Lily and Marvena's lives collide as they realize that Daniel was not the man that either of them believed him to be?and that his murder is far more complex than either of them could have imagined.
Inspired by the true story of Ohio's first female sheriff, this is a powerful debut about two women's search for justice as they take on the corruption at the heart of their community.
"In the hard-luck, homespun Appalachian town of Kinship, Ohio, in 1924, two strong women become unlikely comrades to solve a murder in this flinty, heartfelt mystery that sings of hawks and history, of coal mines and the urgent fight for social justice."–Julia Keller, Pulitzer Prize-winning author of Bone on Bone
"Two women, a murdered husband, and the secret life he lived. Set in Appalachian Ohio coal country in 1924, The Widows kept me on the edge of my seat. Jess Montgomery is a masterful storyteller. This is a novel about courage and the good hearts of women, and it builds, almost unbearably, to its stunning end."–Lee Martin, author of the Pulitzer Prize Finalist The Bright Forever

Purchase Links
___________________________

Please fill out our super short registration form (click the "Enter Now" button above) by December 31st for a chance to win a set of up to ten copies of one of these great books for your book club! We will randomly choose a winner at the end of the month. This giveaway is open to clubs in the US only (our apologies to friends in other countries). 
Best of luck!
We 
LOVE

 Book Clubs!