In 1937, Shanghai is the Paris of Asia, a city of great wealth and glamour, the home of millionaires and beggars, gangsters and gamblers, patriots and revolutionaries, artists and warlords. Thanks to the financial security and material comforts provided by their father's prosperous rickshaw business, twenty-one-year-old Pearl Chin and her younger sister, May, are having the time of their lives. Though both sisters wave off authority and tradition, they couldn't be more different: Pearl is a Dragon sign, strong and stubborn, while May is a true Sheep, adorable and placid. Both are beautiful, modern, and carefree . . . until the day their father tells them that he has gambled away their wealth and that in order to repay his debts he must sell the girls as wives to suitors who have traveled from California to find Chinese brides.
As Japanese bombs fall on their beloved city, Pearl and May set out on the journey of a lifetime, one that will take them through the Chinese countryside, in and out of the clutch of brutal soldiers, and across the Pacific to the shores of America. In Los Angeles they begin a fresh chapter, trying to find love with the strangers they have married, brushing against the seduction of Hollywood, and striving to embrace American life even as they fight against discrimination, brave Communist witch hunts, and find themselves hemmed in by Chinatown's old ways and rules.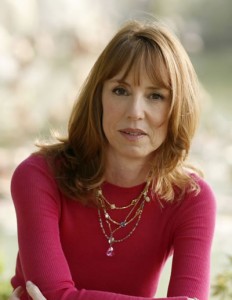 At its heart, Shanghai Girls is a story of sisters: Pearl and May are inseparable best friends who share hopes, dreams, and a deep connection, but like sisters everywhere they also harbor petty jealousies and rivalries. They love each other, but each knows exactly where to drive the knife to hurt the other the most. Along the way they face terrible sacrifices, make impossible choices, and confront a devastating, life-changing secret, but through it all the two heroines of this astounding new novel hold fast to who they are–Shanghai girls.
Lisa See is the New York Times bestselling author of Peony in Love, Snow Flower and the Secret Fan, Flower Net (an Edgar Award nominee), The Interior, and Dragon Bones, as well as the critically acclaimed memoir On Gold Mountain. The Organization of Chinese American Women named her the 2001 National Woman of the Year. She lives in Los Angeles.
You can visit Lisa's website to learn more about her work by clicking HERE.
Lisa See's TLC Book Tours TOUR STOPS:
Monday, January 4th:  Suko's Notebook
Tuesday, January 5th:  The Literate Housewife Review
Wednesday, January 6th: Stephanie's Written Word
Thursday, January 7th:  She is Too Fond of Books
Friday, January 8th:  Book Club Classics
Monday, January 11th:  Luxury Reading
Tuesday, January 12th:  Diary of an Eccentric
Wednesday, January 13th:  Peeking Between the Pages
Wednesday, January 13th:  Peeking Between the Pages author guest post
Thursday, January 14th:  Caribousmom
Friday, January 15th:  The Book Faery Reviews
Friday, January 15th:  The Book Faery Reviews author guest post
Friday, January 15th:  Savvy Verse & Wit author interview
Monday, January 18th:  Booking Mama
Tuesday, January 19th:  Booking Mama author guest post
Tuesday, January 19th:  Savvy Verse & Wit
Wednesday, January 20th:  Dolce Bellezza
Thursday, January 21st:  Book, Line, and Sinker
Friday, January 22nd:  Word Lily
Monday, January 25th:  The Brain Lair
Tuesday, January 26th:  A Lifetime of Books
Wednesday, January 27th:  The 3 R's: Reading, 'Riting, and Randomness