About The Outlook for Earthlings
Paperback:

237 pages

Publisher:

Regal House Publishing (October 2, 2020)
The Outlook For Earthlings traces a difficult friendship across a lifetime. Melanie Taper is rule-bound, timid, self-erasing. Yet in unguarded moments she demonstrates such deadly insight into human foibles as to suggest a strength that has, for dark reasons, deliberately hidden itself lifelong. Scarlet Rand is rash, willful, abrasive—vexed by "demure" traits and "small fussing motions." Shocked by Mel's passivity and near-archaic saintliness, Scarlet disbelieves it. Their friendship suggests to each a final frontier, a saving sanctuary. Yet at its core each woman takes a secret, moral offense at the other's inmost nature—and her choices. Against the deadline of the illness which is slowly destroying one of them, a reckoning must occur.
The Outlook for Earthlings considers the limits of friendship—and of witnessing. It asks how we may finally measure a life—and who should do the measuring.
Social Media
Please use the hashtag #theoutlookforearthlings, and tag @tlcbooktours.

Purchase Links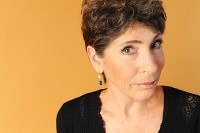 About Joan Frank
Joan Frank is the author of ten books: eight of literary fiction and two essay collections. Her recent books are WHERE YOU'RE ALL GOING: FOUR NOVELLAS and TRY TO GET LOST: ESSAYS ON TRAVEL AND PLACE. A MacDowell Fellow and recipient of many honors and awards, Joan also reviews literary fiction and nonfiction for the Washington Post.
Find out more about Joan at her website.
Review Stops
Friday, October 2nd: Run Wright
Tuesday, October 6th: The Sketchy Reader
Wednesday, October 7th: A Bookish Way of Life
Thursday, October 8th: Diary of a Stay at Home Mom
Monday, October 12th: Girl Who Reads
Tuesday, October 13th: 5 Minutes For Books
Wednesday, October 14th: Stranded in Chaos
Thursday, October 15th: she treads softly
Friday, October 16th: Kahakai Kitchen
Friday, October 23rd: Openly Bookish
Tuesday, October 27th: A Chick Who Reads