Hardcover: 352 Pages
Publisher: Thomas Nelson (June 2, 2020)
Sometimes it takes losing everything to find yourself again.
Lily Bishop wakes up one morning to find a good-bye note and divorce papers from her husband on the kitchen counter. Having moved to Alabama for his job only weeks before, Lily is devastated, but a flyer at the grocery store for a hair stylist position in a local retirement community provides a refuge while she contemplates her next steps.
Rose Carrigan built the small retirement village of Safe Harbor years ago—just before her husband ran off with his assistant. Now she runs a tight ship, making sure the residents follow her strict rules. Rose keeps everyone at arm's length, including her own family. But when Lily shows up asking for a job and a place to live, Rose's cold exterior begins to thaw.
Lily and Rose form an unlikely friendship, and Lily's salon soon becomes the place where residents share town gossip, as well as a few secrets. Lily soon finds herself drawn to Rose's nephew, Rawlins—a single dad and shrimper who's had some practice at starting over—and one of the residents may be carrying a torch for Rose as well.
Neither Lily nor Rose is where she expected to be, but the summer makes them both wonder if there's more to life and love than what they've experienced so far. The Summer House weaves Lauren K. Denton's inviting Southern charm around a woman's journey to find herself.

Purchase Links
About Lauren K. Denton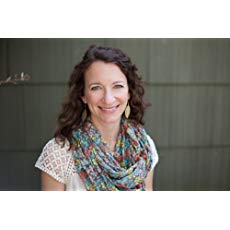 Born and raised in Mobile, Alabama, Lauren now lives with her husband and two daughters in Homewood, just outside Birmingham. In addition to her fiction, she writes a monthly newspaper column about life, faith, and how funny (and hard) it is to be a parent. On any given day, she'd rather be at the beach with her family and a stack of books. Her debut novel, THE HIDEAWAY, was a Wall Street Journal, USA Today, and Amazon Charts bestseller. Her second novel, HURRICANE SEASON, released in spring of 2018, is a USA Today bestseller. GLORY ROAD will release in March, 2019.
.
Connect with Lauren
Lauren K. Denton's TLC Book Tours TOUR STOPS:
Monday, June 1st: Amy's Book-et List
Tuesday, June 2nd: Reading Reality
Wednesday, June 3rd: Bewitched Bookworms
Thursday, June 4th: Hallie Reads
Monday, June 8th: Audio Killed the Bookmark and @beritaudiokilledthebookmark
Tuesday, June 9th: All Roads Lead to the Kitchen
Wednesday, June 10th: @bluntscissorsbookreviews
Thursday, June 11th: Leighellen Landskov Photography and @mommaleighellensbooknook
Friday, June 12th: Kritter's Ramblings
Monday, June 15th: PhDiva Blog and @thephdivabooks
Tuesday, June 16th: Kahakai Kitchen
Wednesday, June 17th: Diary of a Stay at Home Mom
Thursday, June 18th: Buried Under Books
Friday, June 19th: Treestand Book Reviews
Monday, June 22nd: @angelareadsbooks
Wednesday, June 24th: Christian Chick's Thoughts
Friday, June 26th: Girl Who Reads
Monday, June 29 Running Through the Storms
Friday, July 3rd: View from the Birdhouse
Wednesday, July 22nd: @bibliolau19