Join us for an Instagram tour for
Hardcover: 320 Pages
Publisher: Kensington (July 30, 2019)
In this clever reimagining of Charles Dickens's life, he and fiancée Kate Hogarth must solve the murder of a spinster wearing a wedding gown . . .
London, June 1835: In the interest of being a good neighbor, Charles checks in on Miss Haverstock, the elderly spinster who resides in the flat above his. But as the young journalist and his fiancée Kate ascend the stairs, they are assaulted by the unmistakable smell of death. Upon entering the woman's quarters, they find her decomposing corpse propped up, adorned in a faded gown that looks like it could have been her wedding dress, had she been married. A murderer has set the stage. But to what purpose?
As news of an escaped convict from Coldbath Fields reaches the couple, Charles reasonably expects the prisoner, Ned Blood, may be responsible. But Kate suspects more personal motives, given the time and effort in dressing the victim. When a local blacksmith is found with cut manacles in his shop and arrested, his distraught wife begs Charles and Kate to help. At the inquest, they are surprised to meet Miss Haverstock's cold and haughty foster daughter, shadowed by her miserably besotted companion. Secrets shrouded by the old woman's past may hold the answers to this web of mystery. But Charles and Kate will have to risk their lives to unveil the truth . . .

Purchase Links
About Heather Redmond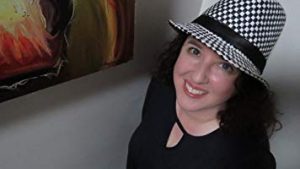 Though her last known British ancestor departed London in the 1920s, Heather Redmond is a committed anglophile, Dickens devotee, and lover of all things nineteenth century. She has lived in Illinois, California, and Texas, and now resides in a small town in Washington State with her husband and son. For more information please visit www.heatherredmond.com and twitter.com/heatheraredmond.
Connect with Heather
Instagram tour:
Sunday, August 4th: @tlcbooktours – giveaway
Monday, August 5th: @tarheelreader
Monday, August 5th: @rendezvous_with_reading
Tuesday, August 6th: @createexploreread
Wednesday, August 7th: @oddandbookish
Thursday, August 8th: @_ebl_inc_
Friday, August 9th: @crystals_library
Saturday, August 10th: @giuliland
Sunday, August 11th: @my_book_journey_
Monday, August 12th: @jennblogsbooks
Monday, August 12th: @beritaudiokilledthebookmark
TOUR REPLAY: @TLCBookTours