Join us for an Instagram and Review tour for
Paperback: 336 Pages
Publisher: Thomas Nelson (May 28, 2019)
Hamish DeLuca and Regina "Reggie" Van Buren have a new case—and this one could demand a price they're not willing to pay.
Determined to make a life for herself, Reggie Van Buren bid goodbye to fine china and the man her parents expected her to marry and escaped to Boston. What she never expected to discover was that an unknown talent for sleuthing would develop into a business partnership with the handsome, yet shy, Hamish DeLuca.
Their latest case arrives when Errol Parker, the leading base stealer in the Boston farm leagues, hires Hamish and Reggie to investigate what the Boston police shove off as a series of harmless pranks. Errol believes these are hate crimes linked to the outbreak of war in Europe, and he's afraid for his life. Hamish and Reggie quickly find themselves in the midst of an escalating series of crimes.
When Hamish has his careful constructed life disrupted by a figure from his past, he is driven to a decision that may sever him from Reggie forever . . . even more than her engagement to wealthy architect Vaughan Vanderlaan.

Purchase Links
About Rachel McMillan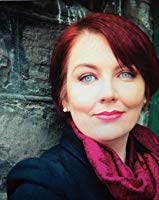 Rachel McMillan is the author of the Herringford and Watts mysteries, the Three Quarter Time series of contemporary romances set in opulent Vienna, and the Van Buren and DeLuca mysteries praised for bringing an authentic 1930's Boston world to life while normalizing the fictional conversation surrounding mental illness. Her first work of non-fiction, described as a romantic's guide to independent travel, releases in 2020. Rachel lives in Toronto, Canada.
Connect with Rachel
Instagram tour:
Tuesday, June 4th: @thesaggingbookshelf
Wednesday, June 5th: @jessicamap
Thursday, June 6th: @rendezvous_with_reading
Friday, June 7th: @booktimistic
Friday, June 7th: @jennblogsbooks
Sunday, June 9th: @simplykelina
Wednesday, June 12th: @sarahs_reads
Thursday, June 13th: @createexploreread
TOUR REPLAY: @TLCBookTours
Review tour:
Monday, June 10th: I Wish I Lived in a Library
Tuesday, June 11th: Reading Reality
Wednesday, June 12th: What is That Book About – spotlight
Thursday, June 13th: Running Through the Storms
Friday, June 14th: Audio Killed the Bookmark and @beritaudiokilledthebookmark
Sunday, June 16th: Amy's Book-et List
Tuesday, June 18th: @beauty_andthebook
Wednesday, June 19th: @pnwbookworm
Thursday, June 20th: Lori's Reading Corner – spotlight
Friday, June 21st: View from the Birdhouse
Monday, June 24th: @amberafterglowreads
Wednesday, June 26th: The Sketchy Reader
Thursday, June 27th: Write Read Life
Monday, July 1st: Bookworm for Kids
Tuesday, July 2nd: Christian Chick's Thoughts
Wednesday, July 3rd: Blooming with Books
Friday, July 5th: Buried Under Books
Monday, July 8th: Diary of a Stay at Home Mom
Thursday, July 11th: The Lit Bitch
Friday, July 12th: Broken Teepee
Monday, August 5th: Read Till Dawn