Join us for an Instagram and review tour for
Paperback: 320 Pages
Publisher: Thomas Nelson (May 21, 2019)
From the bestselling author of The Convenient Groom (now a beloved Hallmark Original movie) comes a heartfelt story of family secrets, forgiveness, and unexpected romance.
Following a painful betrayal, Maddy Monroe's love life is a wreck, and her restaurant career is in shambles. When her grandmother goes missing, she and her estranged sisters converge at the family beach house in Sea Haven, North Carolina. Being with uptight Nora and free-spirited Emma at the place where their family broke apart is a struggle, and undercurrents of jealousy and resentment threaten to pull the sisters under. In the midst of the storm, sparks begin to fly between Maddy and Gram's maddening neighbor, Connor Murphy.
As the sisters pack up the family belongings, memories of idyllic, slow-paced summers are resurrected. But long-buried secrets also come to light as Maddy discovers that all was not as it appeared that last summer in Sea Haven—nor today in the seemingly perfect lives of her sisters.
As family tensions rise and Connor causes tumult in Maddy's heart, the sisters must find a way to accept each other for the women they've become before the bitterness of the past destroys their hope for a future.

Purchase Links
About Denise Hunter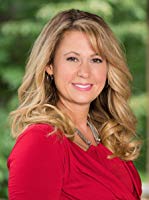 Denise Hunter is the internationally published bestselling author of more than 25 books, including A December Bride and The Convenient Groom, which have been adapted into original Hallmark Channel movies. She has won The Holt Medallion Award, The Reader's Choice Award, The Carol Award, The Foreword Book of the Year Award, and is a RITA finalist. When Denise isn't orchestrating love lives on the written page, she enjoys traveling with her family, drinking green tea, and playing drums. Denise makes her home in Indiana where she and her husband are rapidly approaching an empty nest.
Connect with Denise
Instagram tour:
Monday, June 3rd: @read.write.coffee
Tuesday, June 4th: @beritaudiokilledthebookmark
Wednesday, June 5th: @_ebl_inc_
Thursday, June 6th: @my_book_journey
Friday, June 7th: @nsiabblog
Saturday, June 8th: @thecaffeinated_bibliophile
Sunday, June 9th: @sarahandherbookshelves
Monday, June 10th: @sarahs_reads
TOUR REPLAY: @TLCBookTours
Review tour:
Monday, June 10th: @angelareadsbooks
Tuesday, June 11th: Lori's Reading Corner – spotlight or guest post
Tuesday, June 11th: Amy's Book-et List
Wednesday, June 12th: Jathan and Heather
Thursday, June 13th: A Chick Who Reads
Friday, June 14th: View from the Birdhouse
Monday, June 17th: @simplykelina
Tuesday, June 18th: Reading Reality
Wednesday, June 19th: Empowermoms
Thursday, June 20th: I Wish I Lived in a Library
Friday, June 21st: Blooming with Books
Monday, June 24th: Mel's Shelves
Tuesday, June 25th: Christian Bookshelf Reviews
Wednesday, June 26th: Midwest Ladies Who Lit and @mwladieswholit
Thursday, June 27th: Running Through the Storms
Friday, June 28th: From the TBR Pile
Tuesday, July 2nd:  @moonlight_rendezvous
Wednesday, July 3rd: Books and Spoons
Friday, July 5th: Kritter's Ramblings
Monday, July 8th: Run Wright
Tuesday, July 9th: Girl Who Reads
Wednesday, July 10th: What is That Book About