About Beyond the Point
• Hardcover: 528 pages
• Publisher: William Morrow (April 2, 2019)
"An inspiring tribute to female friendship and female courage!"–Kate Quinn, New York Times bestselling author of The Alice Network and The Huntress.
Three women are brought together in an enthralling story of friendship, heartbreak, and resilience. Set at the U.S. Military Academy at West Point, this is an amazing debut novel.
Duty. Honor. Country. That's West Point's motto, and every cadet who passes through its stone gates vows to live it. But on the eve of 9/11, as Dani, Hannah and Avery face four grueling years ahead, they realize they'll only survive if they do it together.
Everyone knows Dani is going places. With athletic talent and a brilliant mind, she navigates West Point's predominantly male environment with wit and confidence, breaking stereotypes and embracing new friends.
Hannah's grandfather, a legendary Army general, offers a stark warning about the dangers that lie ahead, but she moves forward anyway, letting faith guide her path. When she meets her soul mate at West Point, the future looks perfect, just as planned.
Wild child Avery moves fast and doesn't mind breaking a few rules (and hearts) along the way. But she can't outpace her self-doubt, and the harder she tries, the further it leads her down a treacherous path.
The world—of business, of love, and of war—awaits Dani, Hannah, and Avery beyond the gates of West Point. These three women know that what doesn't kill you makes you stronger. But soon, that adage no longer rings true—for their future, or their friendship. As they're pulled in different directions, will their hard-forged bond prevail or shatter?
Beyond the Point is a heartfelt look at how our closest friends can become our fiercest battle buddies. After all, the greatest battles we fight rarely require a uniform.
Social Media
Please use the hashtag #beyondthepoint and tag @tlcbooktours, @williammorrowbooks, @clairecgibson, and @beyondthepointbook.

Purchase Links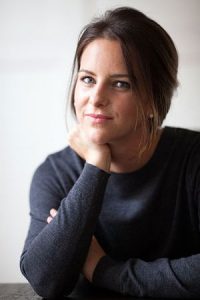 About Claire Gibson
Claire Gibson is a writer and journalist based in Nashville, Tennessee. Born and raised at the U.S. Military Academy at West Point, she grew up captivated by cadets and always dreamed of writing a story that honored her childhood home and the women that inspired her there. Her stories have been featured in The Washington Post, The Christian Science Monitor, The Tennessean and Entrepreneur Magazine, among many other publications.
Find out more about Claire at her website, and connect with her Twitter and Instagram.
Instagram Features
Tuesday, April 2nd: Instagram: @oddandbookish
Tuesday, April 2nd: Instagram: @simplykelina
Wednesday, April 3rd: Instagram: @giuliland
Wednesday, April 3rd: Instagram: @shelovesthepages
Thursday, April 4th: Instagram: @rendezvous_with_reading
Friday, April 5th: Instagram: @readwithkat
Saturday, April 6th: Instagram: @jessicamap
Sunday, April 7th: Instagram: @basicbsguide
Tuesday, April 9th: Instagram: @beritaudiokilledthebookmark
Sunday, April 21st: Instagram: @writersdream
TOUR REPLAY: @TLCBookTours
Review Stops
Tuesday, April 2nd: Peppermint PhD
Thursday, April 4th: Broken Teepee
Monday, April 8th: Jessicamap Reviews
Wednesday, April 10th: Bloggin' 'Bout Books
Thursday, April 11th: From the TBR Pile
Monday, April 15th: Literary Quicksand
Tuesday, April 16th: Diary of a Stay at Home Mom
Wednesday, April 17th: Kahakai Kitchen
Thursday, April 18th: Comfy Reading
Monday, April 22nd: What Is That Book About
Tuesday, April 23rd: Iwriteinbooks's blog