About Something Worth Saving
• Paperback: 304 Pages
• Publisher: Kensington (December 18, 2018)
Sandi Ward's shrewdly observed, funny, and wonderfully touching novel tells of a fractured family, a teenage boy, and a remarkable cat whose loyalty knows no bounds . . .
A boy and his cat. It's an unconventional friendship, perhaps, but for Charlie and Lily, it works beautifully. It was Charlie who chose Lily from among all the cats in the shelter. He didn't frown, the way other humans did, when he saw her injured back leg, the legacy of a cruel previous owner. Instead, Charlie insisted on rescuing her. Now Lily wants to do the same for Charlie.
She's the only one who's seen the bruises on Charlie's body. If she knew who was hurting him, she'd scratch their eyes out. But she can't fix this by herself. Lily needs to get the rest of the family to focus on Charlie—not easy when they're wrapped up in their own problems. Charlie's mother kicked his father out weeks ago and has a new boyfriend who seems charming, but is still a stranger. Oldest son Kevin misses his father desperately. Victoria, Charlie's sister, also has someone new in her life, and Lily is decidedly suspicious. Even Charlie's father, who Lily loves dearly, is behaving strangely.
Lily knows what it's like to feel helpless. But she also knows that you don't always have to be the biggest or the strongest to fight fiercely for the ones you love . . .

Purchase Links
About Sandi Ward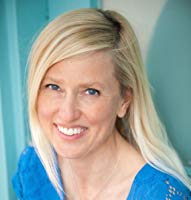 Sandi Ward writes books about love, family, forgiveness…and cats.
Sandi grew up in Manchester-by-the-sea, Massachusetts, and received her MA in Creative Writing at New York University. She's the author of book club novels published by Kensington Books, stories of dysfunctional families told from the point of view of the family cat. She's also a medical copywriter at an advertising agency. She lives on the Jersey Shore with her husband, teenagers, dog and a large black cat named Winnie.
On December 18, 2018 her latest novel, SOMETHING WORTH SAVING, will be on sale (available now for pre-order) in trade paperback, e-book and audio book.
Find out more about Sandi at her website, and connect with her on Facebook, Twitter, and Instagram.
Tour Stops
Monday, January 21st: Peppermint PhD
Monday, January 21st: Read Till Dawn
Tuesday, January 22nd: A Bookish Affair
Thursday, January 24th: Jessicamap Reviews
Friday, January 25th: Ms. Nose in a Book
Monday, January 28th: Broken Teepee
Tuesday, January 29th: A Chick Who Reads
Wednesday, January 30th: Instagram: @rendezvous_with_reading
Thursday, January 31st: Instagram: @books.tea.quotes
Monday, February 4th: Staircase Wit
Tuesday, February 5th: Based on a True Story
Friday, February 8th: Instagram: @ladyofthelibrary
Friday, February 8th: Books and Bindings