Join us for an Instagram tour for
Paperback: 304 Pages
Publisher: Kensington (February 26, 2019)
For a man who makes his living pleasuring women, what happens when the only pay-out worth having is love? 
Faith Abigail Charles has always done the right thing. So when her mother runs for mayor of New Orleans, Faith puts her law career on hold to help her win. But when tensions run high, Faith trades one kind of heat for another—in the arms of a hard-bodied stranger. He's everything a woman dreams of in a lover. So much so that her one-night stand turns into two, then three, then four …
For Aiden Rios, meeting smart, sexy Faith feels like fate. After being ditched by his client in the Big Easy, the high-paid male escort needs a little company himself. Aiden knows he'll have to come clean about his line of work, and he plans to—right after another taste of Faith's sweetness—and another and another … Until a chance meeting with his client leaves Aiden exposed—and Faith shocked and hurt. Now the hired hottie must show Faith that the love they share is bigger than the scandal threatening to destroy them …
.

Purchase Links
.
About Zoey Castile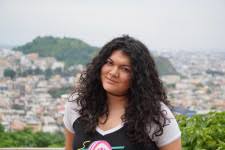 Zoey Castile was born in Ecuador and raised in Queens, New York. She started writing in her teens and pursued that love in her studies at Hunter College and the University of Montana. For nearly a decade, she worked as a bartender, hostess, and manager in New York City's nightlife.
.
Connect with Zoey
Sunday, February 24th: @tlcbooktours – giveaway
Monday, February 25th: @novelgrounds
Tuesday, February 26th: @laceybooklovers
Tuesday, February 26th: @booknerdingout
Wednesday, February 27th: @book_hangover88
Thursday, February 28th: @sarahandherbookshelves
Thursday, February 28th: @_ebl_inc_
Friday, March 1st: @suey_library
Saturday, March 2nd: @remarkablylisa
Sunday, March 3rd: @radbabesread