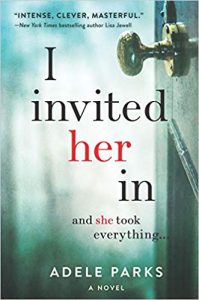 Hardcover: 432 Pages
Publisher: MIRA; Original edition (February 5, 2019)
Imagine the worst thing a friend could ever do.
This is worse.
When Mel receives an unexpected email from her oldest friend Abi, it brings back memories she thought she had buried forever. Their friendship belonged in the past. To those carefree days at university.
But Abi is in trouble and needs Mel's help, and she wants a place to stay. Just for a few days, while she sorts things out. It's the least Mel can do.
After all, friends look out for each other, don't they?
I Invited Her In is a blistering tale of wanting what you can't have, jealousy and revenge from Sunday Times bestseller Adele Parks.

Purchase Links
About Adele Parks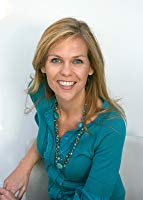 Adele Parks one of the most-loved and biggest-selling women's fiction writers in the UK. She has sold over 3 million books and her work has been translated into 25 different languages.
1500+ 5 star reviews have kindly been written by her fans on Amazon.co.uk 🙂
She has published 15 novels in the past 15 years, all of which have been London Times Top Ten Bestsellers.
Adele was born in the North East of England, in 1969. She enjoyed a traditional 1970's childhood, watching too much TV and eating convenience food because nobody minded if kids did that in those days. Since graduating from university, where she studied English Language and Literature, she worked in advertising and as a management consultant. In 2010 Adele was proud to be awarded an honorary doctorate of Letters from Teesside University.
Connect with Adele
Adele's TLC Book Tours TOUR STOPS
Monday, February 4th: Jathan & Heather
Wednesday, February 6th: Cheryl's Book Nook
Thursday, February 7th: Seaside Book Nook
Monday, February 11th: @thecityofdarkclockwork
Tuesday, February 12th: Bewitched Bookworms
Tuesday, February 12th: From the TBR Pile
Wednesday, February 13th: @thepagesinbetween and The Pages In-Between
Sunday, February 17th: Lori's Reading Corner – Guest Post
Monday, February 18th: @jessicamap
Tuesday, February 19th: @thesaggingbookshelf
Wednesday, February 20th: @novelmombooks
Thursday, February 21st: @girlsinbooks
Friday, February 22nd: @readingbetweenthe_wines
Monday, February 25th: @scaredstraightreads
Tuesday, February 26th: @shereadswithcats
Wednesday, February 27th: A Chick Who Reads
Thursday, February 28th: Books and Cats and Coffee
Friday, March 1st: Rad Babes Read and @radbabesread
Monday, March 4th: Tar Heel Reader and @tarheelreader
Tuesday, March 5th: Books and Bindings
Wednesday, March 6th: Kahakai Kitchen
Wednesday, March 6th: @hollyslittlebookreviews
Thursday, March 7th: The Lit Bitch
Thursday, March 7th: Thoughts from a Highly Caffeinated Mind
Friday, March 8th: Novel Gossip and @novelgossip