Join us for an Instagram tour for
Paperback: 368 Pages
Publisher: Entangled: Teen (November 6, 2018)
Hana isn't supposed to exist. She's grown up hidden by her mother in a secret room of the bioship Cyclo until the day her mother is simply gone–along with the entire crew. Cyclo tells her she was abandoned, but she's certain her mother wouldn't leave her there to die. And Hana isn't ready to die yet. She's never really had a chance to live.
Fenn is supposed to die. He and a crew of hired mercenaries are there to monitor Cyclo as she expires, and the payment for the suicide mission will mean Fenn's sister is able to live. But when he meets Hana, he's not sure how to save them both.
As Cyclo grows sicker by the day, they unearth more secrets about the ship and the crew. But the more time they spend together, the more Hana and Fenn realize that falling for each other is what could ultimately kill them both.

Purchase Links
About Lydia Kang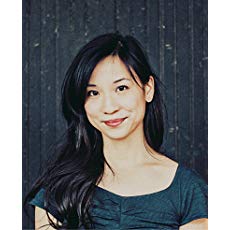 Lydia Kang is a physician and the author of A Beautiful Poison. She was born in Baltimore, Maryland, and graduated from Columbia University and New York University School of Medicine. She currently lives in the Midwest with her family, where she continues to practice internal medicine. Visit her at www.lydiakang.com.
.
Connect with Lydia
Instagram Tour:
Monday, November 5th: @thecityofdarkclockwork
Monday, November 5th: @ladyofthelibrary
Tuesday, November 6th: @booksandlala
Tuesday, November 6th: @createexploreread
Wednesday, November 7th: @everlasting.charm
Wednesday, November 7th: @girlsinbooks
Thursday, November 8th: @librarycutie
Thursday, November 8th: @novelgrounds
Friday, November 9th: @bibliotrix.lestrange
Friday, November 9th: @theshybooks
Saturday, November 10th: @_ebl_inc_
Sunday, November 11th: @jennblogsbooks
Monday, November 12th: @spinatale
Monday, November 12th: @amberafterglowreads
Wednesday, November 14th: @diamondxgirl
Wednesday, November 14th: @dropandgivemenerdy
Tuesday, November 27th: @bookishconnoisseur