Join us for an Instagram tour for
Hardcover: 224 Pages
Publisher: Kensington (November 27, 2018)
In New York Times bestselling author Ellery Adams' intriguing new Secret, Book, and Scone Society novel, Nora Pennington and her fiction loving friends in small-town Miracle Springs, North Carolina, encounter a young woman desperately in need of a new beginning . . .
 
Nora Pennington, owner of Miracle Books, believes that a well-chosen novel can bring healing and hope. But she and the other members of the Secret, Book, and Scone Society know that sometimes, practical help is needed too. Such is the case with the reed-thin girl hiding in the fiction section of Nora's store, wearing a hospital ID and a patchwork of faded bruises. She calls herself Abilene, and though Nora and her friends offer work, shelter, and a supportive ear, their guest isn't ready to divulge her secrets. But when a customer is found dead in an assumed suicide, Nora uncovers a connection that points to Abilene as either a
suspect—or another target.
Summer's end has brought other new arrivals to Miracle Springs too. Entrepreneur Griffin Kingsley opens Virtual Genie, a cyber business that unloads people's unwanted goods for cash. With the town in an economic slump and folks hurting for money, Virtual Genie and its owner are both instantly popular. A patient listener, Griffin dispenses candy to children and strong coffee to adults, and seems like a bona fide gentleman. But Nora's not inclined to judge a book by its cover. And when a second death hits town, Nora and her intrepid friends must help the new, greenhorn sheriff discern fact from fiction—and stop a killer intent on bringing another victim's story to a close . . .

Purchase Links
About Ellery Adams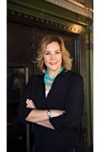 New York Times bestselling author Ellery Adams grew up on a beach near the Long Island Sound. Having spent her adult life in a series of landlocked towns, she cherishes her memories of open water, violent storms, and the smell of the sea. She now writes full-time from her home in North Carolina, which she shares with her husband, two trolls, and three keyboard-hogging felines. Adams loves coffee, champagne, kickboxing, 1000-piece jigsaw puzzles, Pinterest, and black jelly beans.
Her traditionally published series include The Secret, Book, and Scone Society Mysteries, The Book Retreat Mysteries, The Books By the Bay Mysteries, and The Charmed Pie Shoppe Mysteries.
Her Indie series, available as ebooks only, include The Supper Club Series, The Hope Street Series, and The Molly Appleby Collectible Series.
Connect with Ellery
Instagram Tour Stops
Monday, November 26th: @brookesbooksandbrews
Tuesday, November 27th: @girlandherbooks
Tuesday, November 27th: @moonlight_rendezvous
Friday, November 30th: @pnwbookworm
Saturday, December 1st: @thebooksellersdaughter
Saturday, December 1st: @lesa_cap
Saturday, December 1st: @ladyofthelibrary
Sunday, December 2nd: @jennblogsbooks
Monday, December 10th: @TLCBookTours TOUR REPLAY