Join us for the Instagram tour for
Mass Market Paperback: 336 Pages
Publisher: Dafina (October 30, 2018)
True to its name, the small southern town of Sugar Lake is a sweet place to visit—and you might even want to live there . . .
With her big city career and relationship in sudden free fall, Olivia Gale isn't sure where she belongs. So when her help is needed at Goode N' Sweet, the family bakery in Sugar Lake, she jumps at the chance to indulge her pie-making hobby while getting her life back on track. Olivia's not looking for any distractions. Even if the boy who once left her without a word is now a grown man with intriguing secrets—and the same tempting hold on her heart . . .
A firefighter and single dad, Clayton Morris is trying hard to fix his past mistakes. He thought he was doing the right thing by leaving Olivia—and now he's sure he has nothing to offer the accomplished woman she's become. But ignoring the sparks between them is impossible. And as unexpected surprises and hard choices endanger their fragile reunion, they'll have to decide which direction to take if they want to find the road back to love . . .

Purchase Links
About K. M. Jackson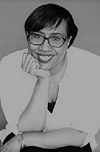 A former fashion designer, K. M. Jackson won a New Jersey Romance Writers' Golden Leaf Award for her novel Bounce. A longtime member of Romance Writers of America, she received the New York Chapter's 2014 Golden Apple Award for Author of the Year. Currently she resides in the suburbs with her husband, twins, and her precocious terrier named Jack—who always keeps her on her toes.
Connect with K. M.
Instagram Tour Stops:
Monday, October 29th: @bookishaurora
Tuesday, October 30th: @bookish_4_life
Tuesday, October 30th: @sarahs_reads
Thursday, November 1st: @kate.olson.reads
Thursday, November 1st: @moonlight_rendezvous
Friday, November 2nd: @girlandherbooks
Sunday, November 4th: @novelmombooks
Sunday, November 11th: @pretty_little_library
Wednesday, November 14th: @_ebl_inc_