To celebrate the release of Dorothea Benton Frank's The Last Original Wife, we're doing a read along that culminates in a cocktail party with Dorothea Benton Frank during Book Expo America.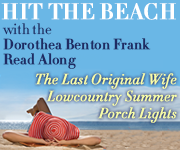 In order to qualify to attend the cocktail party, participants must:
Read and review one of Dorothea Benton Frank's back list titles as well as her latest book, The Last Original Wife.
Post the above badge on their site for April through June.
If bloggers are participating in the read along but not the TLC tour, participants will need to contact Trish.
Date, time, and location of the cocktail party will be given to participants privately. 
.
About Lowcountry Summer
• Paperback: 384 pages
• Publisher: William Morrow Paperbacks; Reprint edition (March 29, 2011)
"Happy birthday? My pig-farmer boyfriend was in absentia, the county sheriff was the current cause of some very naughty thoughts, my drunk sister-in-law was passed out at my kitchen table, and my dead mother had sent balloons. What else could a girl want?"
On the occasion of her 46th birthday, Caroline Wimbley Levine is concerned about filling the large shoes of her late, force-of-nature mother, Miss Lavinia, the former Queen of Tall Pines Plantation. Still, Caroline loves a challenge—and she simply will not be fazed by the myriad family catastrophes surrounding her. She'll deal with brother Trip's tricky romantic entanglements, son Eric and his mysterious girlfriend, and go toe-to-toe with alcoholic Frances Mae and her four hellcats without batting an eye, becoming more like Miss Lavinia every day . . . which is not an entirely good thing.
Return with New York Times bestselling author Dorothea Benton Frank to the South Carolina Lowcountry—as a new generation stumbles, survives, and reveals their secrets by the banks of the mighty Edisto River.
About Porch Lights
• Paperback: 336 pages
• Publisher: William Morrow Paperbacks (April 23, 2013)
When fireman Jimmy McMullen is killed in the line of duty, his wife, Jackie, and ten-year-old son, Charlie, are devastated. Trusting in the healing power of family, Jackie decides to return to her childhood home on Sullivans Island—a place of lush green grasslands, the heady pungency of Lowcountry Pluff mud, and palmetto fronds swaying in gentle ocean winds.
Thrilled to have her family back, matriarch Annie Britt promises to make their visit perfect. Over the years, Jackie and Annie, like all mothers and daughters, have had differences of opinion. But her estranged and wise husband, Buster, and her best friend, Deb, are sure to keep Annie in line. She's also got the flirtatious widowed physician next door to keep her distracted. Captivated by the island's natural charms, mother, daughter, and grandson will share a memorable, illuminating summer.
About Return to Sullivan Island
• Paperback: 416 pages
• Publisher: William Morrow Paperbacks (April 27, 2010)
Beloved New York Times bestselling author Dorothea Benton Frank returns to the enchanted landscape of South Carolina's Lowcountry to tell the story of the next generation of Hamiltons and Hayeses.
Newly graduated from college, Beth Hayes must put all her grand ambitions on hold when the family elders elect her to house-sit the Island Gamble, ghosts and all. Instead of conquering new worlds, Beth will rest and rejuvenate while basking in memory and the magic of white clapboards and shimmering blue waters. But there is much about life and her family's past that she does not yet understand—and her simple plans begin unraveling with the intrusion of developer Max Mitchell. Still, everything here happens for a reason—and disappointment, betrayal, even tragedy are more easily handled when surrounded by loving family and loyal friends.
About The Last Original Wife
• Hardcover: 368 pages
• Publisher: William Morrow (June 11, 2013)
Experience the sultry Southern atmosphere of Atlanta and the magic of the Carolina Lowcountry in this funny and poignant tale of one audacious woman's quest to find the love she deserves, from New York Times bestselling author Dorothea Benton Frank.
Leslie Anne Greene Carter is The Last Original Wife among her husband Wesley's wildly successful Atlanta social set. His cronies have all traded in the mothers of their children they promised to love and cherish—'til death did them part—for tanned and toned young Barbie brides.
If losing the social life and close friends she adored wasn't painful enough, a series of setbacks shake Les's world and push her to the edge. She's had enough of playing the good wife to a husband who thinks he's doing her a favor by keeping her around. She's not going to waste another minute on people she doesn't care to know. Now, she's going to take some time for herself—in the familiar comforts and stunning beauty of Charleston, her beloved hometown. In her brother's stately historic home, she's going to reclaim the carefree girl who spent lazy summers sharing steamy kisses with her first love on Sullivans Island. Along Charleston's live oak- and palmetto-lined cobblestone streets, under the Lowcountry's dazzling blue sky, Les will indulge herself with icy cocktails, warm laughter, divine temptation and bittersweet memories. Daring to listen to her inner voice, she will realize what she wants . . . and find the life of which she's always dreamed.
Told in the alternating voices of Les and Wes, The Last Original Wife is classic Dorothea Benton Frank: an intoxicating tale of family, friendship, self-discovery, and love, that is as salty as a Lowcountry breeze and as invigorating as a dip in Carolina waters on a sizzling summer day.
About Dorothea Benton Frank
New York Times bestselling author Dorothea Benton Frank was born and raised on Sullivans Island, South Carolina. She is the author of many New York Times bestselling novels, including Lowcountry Summer and Return to Sullivans Island. She resides in the New York area with her husband.
Find her on the web at www.dotfrank.com, or like her on Facebook.
.
Dorothea's Tour Stops
Monday, April 15th: An Unconventional Librarian – Porch Lights
Friday, April 19th: Books in the City – Lowcountry Summer
Monday, April 29th: Paperback Princess – Porch Lights
Tuesday, April 30th: Sharon's Garden of Book Reviews – Lowcountry Summer
Tuesday, April 30th: Beth Fish Reads – Lowcountry Summer – preview post
Wednesday, May 1st: Alison's Book Marks – Porch Lights
Sunday, May 5th: BermudaOnion's Weblog – Porch Lights
Tuesday, May 7th: Book Journey – Return to Sullivan Island
Tuesday, May 7th: The Well-Read Wife – Lowcountry Summer
Wednesday, May 8th: Jenn's Bookshelves – Porch Lights
Thursday, May 9th: Silver's Reviews – Porch Lights
Thursday, May 9th: Beth Fish Reads – Lowcountry Summer
Wednesday, May 15th: bookchickdi – Return to Sullivan Island
Wednesday, May 22nd: Booking Mama – Porch Lights
Friday, May 24th: Alison's Book Marks – Lowcountry Summer
Friday, May 24th: Alison's Book Marks – Sullivan's Island
Tuesday, June 11th: Paperback Princess – The Last Original Wife
Thursday, June 13th: The Well-Read Wife – The Last Original Wife
Monday, June 17th: An Unconventional Librarian – The Last Original Wife
Tuesday, June 18th: Silver's Reviews – The Last Original Wife
Tuesday, June 18th: Beth Fish Reads – The Last Original Wife
Wednesday, June 19th: Books in the City – The Last Original Wife
Thursday, June 20th: Sharon's Garden of Book Reviews – The Last Original Wife
Thursday, June 20th: Booking Mama – The Last Original Wife
Monday, June 24th: bookchickdi – The Last Original Wife
Wednesday, June 26th: Alison's Book Marks – The Last Original Wife
Thursday, June 27th: Jenn's Bookshelves – The Last Original Wife
Thursday, June 27th: BermudaOnion's Weblog – The Last Original Wife
Friday, June 28th: Book Journey – The Last Original Wife