Paperback: 416 pages
Publisher: Mira; Trade Paperback Edition (April 19, 2011)
We are celebrating the trade paperback release of The Hypnotist with another tour!  The Hypnotist is part of the non-sequential series, The Reincarnationist.  Each book is a free standing novel, all set in the same world but with different main characters.
Haunted by the murder of his lover — a beautiful young painter — Lucian Glass keeps his dark memories at bay by focusing on his work with the FBI's Art Crime Team. Currently investigating a crazed art collector destroying priceless masterpieces, he becomes involved in a bizarre hostage negotiation that takes him undercover at the Phoenix Foundation.
Under hypnosis he travels back to ancient Greece and nineteenth-century Persia, past life while the case takes him New York to Paris and the movie capital of the world. These combined journeys will shatter his understanding of reality, force him to question his sanity, and lead him into the center of an intricate plan to break in to the Metropolitan Museum of Art and steal Hypnos, the 1,500 year old sculpture of the Greek God of sleep, said to hold a secret that many would literally kill to uncover.
"The very definition of thriller: threats modern and ancient, winding around one of the world's great museums, with a cast of compelling individuals who move through gloriously exotic settings. M. J. Rose tells a story built on the idea that saving love is indistinguishable from saving the world. " –Laurie R. King
"Rose's work defies comparison, THE HYPNOTIST so cutting edge that the pages stop just short of slicing your fingers as you race to turn them. She draws us into a world totally of her own making, and the result is a slick, ambitious, and beautifully written tale." — Providence Journal
"THE HYPNOTIST has something for everyone: murder, suspense, history, romance, the supernatural, mystery and erotica. These elements are woven together so skillfully that the whole becomes something new and different…. Rose, who never disappoints either her die-hard fans or the casual reader, has surpassed herself." –Bookreporter.com
INDIE NEXT PICK – May/ RT Top Pick/
PW Starred Review "Stunning Page-Turner"
January Magazine 2010 Best Fiction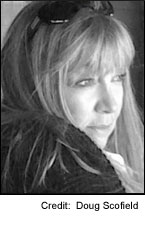 About MJ Rose
M.J. Rose is the internationally bestselling author of several novels and two non-fiction books on marketing.
The television series PAST LIFE was based on Rose's Reincarnationist series. The real stories about how she was inspired to write each book in this series as well as the knowledge she has about reincarnation and the art world make Rose an interesting and compelling blog guest. She'd love to visit.
Connect with MJ on her website, on Twitter, and on Facebook.
M.J. Rose's TLC Book Tours TOUR STOPS:
Monday, June 6th:  Hanging with Bells – giveaway only
Tuesday, June 7th:  Drey's Library
Thursday, June 9th:  The Whimsical Cottage
Friday, June 10th:  Darkeva's Dark Delights
Monday, June 13th:  Unabridged Chick
Wednesday, June 15th:  Bewitched Bookworms
Thursday, June 16th:  Truth, Beauty, Freedom & Books
Friday, June 17th:  Supernatural Snark

Monday, June 20th:  Fiction State of Mind
Tuesday, June 21st:  Misfit Salon
Wednesday, June 22nd:  Wag the Fox – review
Wednesday, June 22nd:  Wag the Fox – author guest post

Thursday, June 23rd:  A Buckeye Girl Reads
Friday, June 24th:  Pensive Bookeaters

Monday, June 27th:  Wordsmithonia
Wednesday, June 29th:  Man of La Book – review
Thursday, June 30th:  Man of La Book – author Q&A

Thursday, June 30th:  The Ranting Dragon
Tuesday, July 5th:  Love to Read for Fun