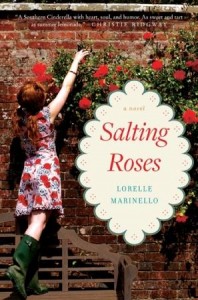 About Salting Roses
• Paperback: 336 pages
• Publisher: Avon A; Original edition (November 30, 2010)
A young woman abandoned as an infant on an Alabama porch is horrified to discover that she is the missing heiress to a vast Connecticut fortune—a birthright she is desperate to reject in favor of her Peachtree Lane roots.
Gracie Lynne Calloway—once left in a coal bucket on a front porch in a small Alabama town—discovers on her twenty-fifth birthday that she is the kidnapped daughter of a late New England financier and heiress to a fortune. When the tabloid press and her unwanted greedy relatives descend on her, she has to admit the quiet secure life she's known and loved is gone for good. As Gracie struggles to stabilize her world and come to terms with her new identity, she learns that belonging is not about where you came from but who you are.
About Lorelle Marinello
Lorelle Marinello has won numerous awards for her writing, including the Romance Writers of America's Golden Heart for Best Single Title Romance in 2005.
Lorelle received her BA in Fine Arts from San Diego State University. She lives in Southern California with her huband and three children. In her free time she enjoys landscape gardening and researching her family's Southern genealogy. Her first novel, Waltzing with Alligators, inspired by her Southern roots, debuted in 2008.
Find out more about Lorelle at her website.
Lorelle Marinello's TLC Book Tours TOUR STOPS
Tuesday, November 30th: Rundpinne
Thursday, December 2nd: Raging Bibliomania
Tuesday, December 7th: Life in the Thumb
Wednesday, December 8th: Calico Critic
Thursday, December 9th: The Lost Entwife
Thursday, December 16th: Book Club Classics!
Monday, December 20th: In the Next Room
Wednesday, December 22nd: Books Like Breathing
Tuesday, December 28th: BookNAround
Wednesday, December 29th: Peetswea