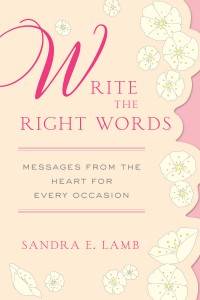 A Warm and Practical Guide to Writing the Perfect Card Message
Are you at a complete loss for words when a birthday card or congratulatory card circulates at the office?  When was the last time you mailed a "thinking of you" card to a faraway family member, just to say hello?  What should you write to a grieving friend? How do you comfort a colleague in a time of need?  Every greeting card needs a personal, handwritten message to make it complete. In this comprehensive, encouraging guide, journalist and lifestyle expert Sandra Lamb offers a wealth of advice, inspiration, and examples for anyone who wants to add the perfect personal touch to their card messages—as well as anyone who wants to know the etiquette of when and what to write.
Something as small as a heartfelt message on a greeting card can help remedy our hectic, e-mail–dependent lives. Lamb provides tips and sample messages for every occasion under the sun, both happy and somber (thank-you, birthday, birth and adoption, condolence), and explains the meanings of possibly unfamiliar holidays and religious rituals to aid in the writing of appropriate messages.
This personal, indispensable guide will help you rekindle the joy of putting pen to paper and truly connect with loved ones and friends.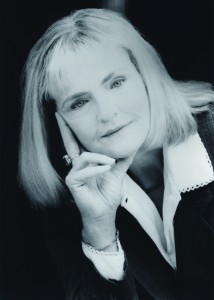 Sandra is a lifestyle, career and etiquette expert, and the award-winning author of How to Write It, Personal Notes, and Write the Right Words.  Lamb began her career as a technical writer, editor, and ghostwriter.  She was a columnist for The Rocky Mountain News, and The Denver Post, and currently also writes magazine articles for national magazines and newspapers on topics that include women's issues, psychology, relationships, and social issues.  She also writes humor.  Her byline has appeared in such publications as Woman's Day, Ladies' Home Journal, Family Circle, The Bark, The Globe and Mail, and many others. She is now writing a narrative nonfiction book, which is scheduled to be published by Crown next year.
For more information about Sandra and her writing, please visit her website.
Sandra Lamb's TLC Book Tours TOUR STOPS:
Tuesday, August 3rd:  Southern Hospitality
Wednesday, August 4th: 'Til We Read Again
Monday, August 9th:  Write Meg!
Tuesday, August 10th:  Marriage to Motherhood
Tuesday, August 10th: Write for a Reader
Wednesday, August 11th:  Entertaining with Sky
Thursday, August 12th:  Carol's Notebook
Friday, August 13th:  Whatever
Monday, August 16th:  Cozy Little House
Tuesday, August 17th:  Amy's Creative Side
Wednesday, August 18th:  Overstuffed
Thursday, August 19th:  Silver and Grace
Friday, August 20th:  Knowing the Difference
Monday, August 23rd:  The Missive Maven
Tuesday, August 24th:  Snail Mail Afficionado