Posted By TLC Booktours on May 14, 2010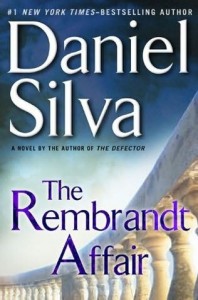 Hardcover: 496 pages
Publisher: Putnam Adult (July 20, 2010)
We are so excited about this tour featuring THE REMBRANDT AFFAIR, which is the 10th book in the Gabriel Allon series by #1 bestselling author Daniel Silva.  We think you will be, too!
In place of a traditional review, we'll be asking hosts to complete a fun "top 10" list, supplied by us, that connects the readers own experience to The Rembrandt Affair.   And (more fun!) we'll ask hosts to tag another blogger they think will enjoy The Rembrandt Affair. The publisher will then send the tagged blogger a copy of the book in the host's name. We hope tour hosts will have fun personally recommending the book to another blogger!
Two families, one terrible secret, and a painting to die for…
Determined to sever his ties with the Office, Gabriel Allon has retreated to the windswept cliffs of Cornwall with his beautiful Venetian-born wife Chiara. But once again his seclusion is interrupted by a visitor from his tangled past: the endearingly eccentric London art dealer, Julian Isherwood. As usual, Isherwood has a problem. And it is one only Gabriel can solve.
In the ancient English city of Glastonbury, an art restorer has been brutally murdered and a long-lost portrait by Rembrandt mysteriously stolen. Despite his reluctance, Gabriel is persuaded to use his unique skills to search for the painting and those responsible for the crime. But as he painstakingly follows a trail of clues leading from Amsterdam to Buenos Aires and, finally, to a villa on the graceful shores of Lake Geneva, Gabriel discovers there are deadly secrets connected to the painting. And evil men behind them.
Before he is done, Gabriel will once again be drawn into a world he thought he had left behind forever, and will come face to face with a remarkable cast of characters: a glamorous London journalist who is determined to undo the worst mistake of her career, an elusive master art thief who is burdened by a conscience, and a powerful Swiss billionaire who is known for his good deeds but may just be behind one of the greatest threats facing the world.
Filled with remarkable twists and turns of plot, and told with seductive prose, The Rembrandt Affair is more than just summer entertainment of the highest order. It is a timely reminder that there are men in the world who will do anything for money.
"Of those writing spy novels today, Daniel Silva is quite simply the best."  —The Kansas City Star
About Daniel Silva
Daniel Silva is the #1 New York Times-bestselling author of The Unlikely Spy, The Mark of the Assassin, The Marching Season, The Kill Artist, The English Assassin, The Confessor, A Death in Vienna, Price of Fire, The Messenger, The Secret Servant, Moscow Rules and The Defector. He is married to NBC News Today correspondent Jamie Gangel. They have two children, Lily and Nicholas. In 2009 Silva was appointed to the United States Holocaust Memorial Museum Council.
.
Connect with Daniel:
On his website
On Facebook
On Twitter
Daniel Silva's TLC Book Tours TOUR STOPS:
Tuesday, July 20th:  Rundpinne
Wednesday, July 21st:  Luxury Reading
Thursday, July 22nd:  A Bookworm's World
Monday, July 26th:  Simply Stacie
Wednesday, July 28th:  Boarding in My Forties
Thursday, July 29th:  Book Junkie
Monday, August 2nd:  Starting Fresh
Tuesday, August 3rd:  Carol's Notebook
Wednesday, August 4th:  Novel Whore
Thursday, August 5th:  Suko's Notebook
Monday, August 9th:  Musings of a Bookish Kitty
Tuesday, August 10th:  Michelle's Masterful Musings or
Wednesday, August 11th:  Jen's Book Thoughts
Thursday, August 12th:  Chick with Books
Monday, August 16th:  Dolce Bellezza