Hardcover: 288 pages
Publisher: Putnam Adult (August 5, 2010)
A lively and surprising novel about a Japanese woman with a closely guarded secret, the American daughter who strives to live up to her mother's standards, and the rejuvenating power of forgiveness.
How to Be an American Housewife is a novel about mothers and daughters, and the pull of tradition. It tells the story of Shoko, a Japanese woman who married an American GI, and her grown daughter, Sue, a divorced mother whose life as an American housewife hasn't been what she'd expected. When illness prevents Shoko from traveling to Japan, she asks Sue to go in her place. The trip reveals family secrets that change their lives in dramatic and unforeseen ways. Offering an entertaining glimpse into American and Japanese family lives and their potent aspirations, this is a warm and engaging novel full of unexpected insight.
"Charming, poignant and life affirming. Dilloway reminds us of the triumph of love over geography, silence and misunderstanding. She makes us glad to be alive."
—Ann Hood, author of THE KNITTING CIRCLE
"A tender and captivating novel of family secrets and redemption, and a compelling look at the complex love languages spoken within three generations of a family."
—Jamie Ford, author of HOTEL ON THE CORNER OF BITTER AND SWEET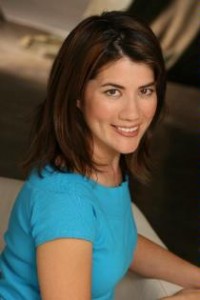 About Margaret Dilloway
Margaret Dilloway was inspired by her Japanese mother's experiences when she wrote this novel, and especially by a book her father had given to her mother called The American Way of Housekeeping. She lives in Hawaii with her husband and three young children.
How to Be an American Housewife is her first novel.
Visit Margaret's blog, American Housewife, HERE.
.
.
.
Margaret Dilloway's TLC Book Tours TOUR STOPS:
Monday, July 12th:  Luxury Reading
Tuesday, July 13th: A Bookworm's World
Wednesday, July 14th:  Simply Stacie
Friday, July 16th:  Peeking Between the Pages
Monday, July 19th:  Life of a Busy Wife
Tuesday, July 20th:  At Home with Books
Wednesday, July 21:  The Book Faery
Thursday, July 22:  Brunette on a Budget
Friday, July 23rd:  Bookalicious
Monday, July 26:  The Literate Housewife
Tuesday, July 27:  Rundpinne
Wednesday, July 28th: Books, Movies, and Chinese Food
Thursday, July 29th:  Diary of an Eccentric Review
Thursday, July 29th:  Diary of an Eccentric Guest Post
Friday, July 30th:  Bookgirl's Nightstand
Monday, August 2nd:  Savvy Verse and Wit
Tuesday, August 3rd:  Redlady's Reading Room
Wednesday, August 4th:  The Brain Lair
Thursday, August 5th:  Crazy About Books