We're really excited about this tour and we think you will be, too!
Fans of John Sandford's #1 bestselling Prey series should know that the 20th mystery featuring Lucas Davenport, Storm Prey, will be hitting stores May 18, 2010. To celebrate the release of this newest book, we will be taking all 20 books on tour for a Days of PREY Blog Tour! Part of what makes this tour exciting is that each reviewer will review one book in the series. So we'll start with the first book, Rules of Prey, and conclude with this latest release, Storm Prey.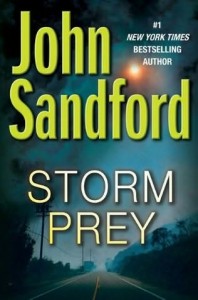 Instead of a regular review, we'll be asking tour hosts to answer a fun list of questions (provided in advance) that they will answer about the Prey book that was read. Through these questions being answered, a timeline will be established, leading up to the same character two decades later.
As if this tour couldn't get any better, each reviewer will have the opportunity to hold a giveaway on their site for the Prey book they read along with an advance reader's copy (ARC) of Storm Prey, open to U.S. and Canadian residents.
"Sandford understands on a fundamental level how to tell a good story, taking flawed but likeable characters and spinning them into a plot filled with action, velocity and suspense." – The Daily Beast
About Storm Prey
"Sandford's track record as a best-selling author is amazing, but it's not an accident," wrote Booklist of Wicked Prey. "His plotting is sharp, his villains are extraordinarily layered, and his good guys are always evolving."
And this time, there's a storm brewing…. Very early, 4:45 on a bitterly cold Minnesota morning, three big men burst through the door of a hospital pharmacy, duct-tape the hands, feet, mouth and eyes of two pharmacy workers, and clean the place out. But then things swiftly go bad, one of the workers dies, and the robbers hustle out to their truck — and find themselves for just one second face to face with a blond woman who's driven into the garage.
Weather Karkinnen, surgeon, wife of an investigator named Lucas Davenport.
Did she see enough? Can she identify them? Gnawing it over later, it seems to them there is only one thing they can do:
Find out who she is, and eliminate the only possible witness…
Filled with his brilliant trademark suspense and some of the best characters in suspense fiction, Storm Prey — the twentieth novel in the Prey series — is further proof that "John Sandford is at the top of his game" (The Washington Post).
Here's a list of the books in the Prey series in chronological order:
About John Sandford
John Sandford is the #1 New York Times-bestselling author of twenty Prey novels and nine other books, most recently the Virgil Flowers novel Rough Country. He lives in Minnesota.
Visit John at his website at www.johnsandford.org.
John Sandford and the DAYS OF PREY Tour Schedule
Monday, May 3rd:
Rules of Prey: Rundpinne
Shadow Prey: Boarding in my Forties
Tuesday, May 4th:
Eyes of Prey: Jenn's Bookshelves
Silent Prey: Chick with Books
Wednesday, May 5th:
Winter Prey: The Bluestocking Guide
Night Prey: Books On The Brain
Thursday, May 6th:
Mind Prey: Jen's Book Thoughts
Sudden Prey: Starting Fresh
Friday, May 7th:
Secret Prey: Fantasy & SciFi Loving News & Reviews
Certain Prey: My Two Blessings
Monday, May 10th:
Easy Prey: Lesa's Book Critiques
Chosen Prey: Reading with Monie
Tuesday, May 11th:
Mortal Prey: Musings of a Bookish Kitty
Naked Prey: Dan's Journal
Wednesday, May 12th
Hidden Prey: Novel Whore
Broken Prey: You've GOTTA read this!
Thursday, May 13th:
Invisible Prey: Booktumbling.com
Friday, May 14th:
Phantom Prey: The Novel Bookworm
Monday, May 17th:
Wicked Prey: A Bookworm's World
Tuesday, May 18th:
Storm Prey: Bermuda Onion
.
.