Hardcover: 448 pages
Publisher: Random House (February 23, 2010)
"PUBLISHER'S WEEKLY on Venetia Kelly's Traveling Show
"This hybrid quest saga, bildungsroman, and grassroots view of Ireland in its post–civil war era is immersive and enjoyable, and it showcases Delaney's talent for inventive metaphor, which he manipulates with an expert hand.""
"LIBRARY JOURNAL on Venetia Kelly's Traveling Show
"Delaney (Shannon ) is a master storyteller, and this expansive tale of politics, tragedy, and revenge is Irish storytelling at its best. Full of vibrant, well-crafted characters and satisfyingly high drama."
"She sprang from the womb and waved to the crowd. Then smiled and took a bow." And so we first meet Venetia Kelly, the beguiling actress at the center of this new, spellbinding, and epic novel by Frank Delaney, the bestselling author of Ireland and Shannon.

January 1932: While Ireland roils in the run-up to the most important national election in the Republic's short history, Ben MacCarthy and his father watch a vagabond variety revue making a stop in the Irish countryside. After a two-hour kaleidoscope of low comedy, Shakespearean recitations, juggling, tumbling, and other entertainments, Ben's father, mesmerized by Venetia Kelly, the troupe's magnetic headliner, makes a fateful decision: to abandon his family and set off on the road with Miss Kelly and her caravan. Ben's mother, shattered by the desertion, exhorts, "Find him and bring him back," thereby sending the boy on a Homeric voyage into manhood, a quest that traverses the churning currents of Ireland's fractious society and splinters the MacCarthy family.
Interweaving historical figures including W. B. Yeats, and a host of unforgettable creations—"King" Kelly, Venetia's violent, Mephistophelean grandfather; Sarah Kelly, Venetia's mysterious, amoral mother; and even a truth-telling ventriloquist's dummy named Blarney—Frank Delaney unfurls a splendid narrative that spans half the world and a tumultuous, eventful decade.
Teeming with intrigue, pathos, and humor, Venetia Kelly's Traveling Show explores two of Ireland's great national passions: theater and politics. Writing with his signature mastery and lyrical prose, Frank Delaney once again delivers an unforgettable story as big and boisterous as the people and events it chronicles.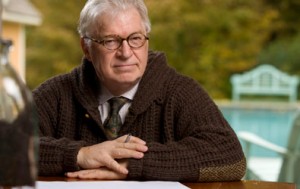 Frank Delaney is the author of the New York Times bestselling novels "Ireland," "Tipperary," as well as "Simple Courage: The Story of S.S. Flying Enterprise," which was named one of the 10 best books of 2006 by the American Library Association. His novel "Shannon" (Random House, March 2009) tells the story of a young and once-brilliant American chaplain, shell-shocked in World War One, who travels in search of his family roots. His next book, "Venetia Kelly's Traveling Show," will be released February 2010. A former judge of the Booker Prize, Delaney enjoyed a prominent career in BBC broadcasting before becoming a full-time writer. He was born in Tipperary, Ireland, and now lives in New York and Connecticut with his wife, Diane Meier.
For more info on his work, please visit Mr. Delaney's website.
Frank Delaney's TLC Book Tours TOUR STOPS:
Tuesday, March 16th: The Literate Housewife Review
Wednesday, March 17th: Luxury Reading
Thursday, March 18th: Tales of a Capricious Reader
Thursday, March 25th: Trish's Reading Nook
Monday, April 5th: Stephanie's Confessions of a Book-a-holic
Wednesday, April 7th: My Two Blessings
Thursday, April 15th: Cheryl's Book Nook
Monday, April 19th: Fizzy Thoughts
Tuesday, April 20th: Rundpinne
Wednesday, April 21st: Worducopia
Thursday, April 22nd: 2 Kids and Tired Book Reviews
Monday, April 26th: Worducopia