Paperback: 288 pages
Publisher: Ballantine Books (April 6, 2010)
How do you change your luck? Katherine Center's marvelously entertaining and poignant new novel is about choosing to look for happiness—and maybe getting lucky enough to find it.
Sarah Harper isn't sure if the stupid decisions she sometimes makes are good choices in disguise—or if they're really just stupid. But either way, after forwarding an inappropriate email to her entire company, she suddenly finds herself out of a job.
So she goes home to Houston—and her sister, Mackie—for Thanksgiving. But before Sarah can share her troubles with her sister, she learns that Mackie has some woes of her own: After years of trying, Mackie's given up on having a baby—and plans to sell on eBay the entire nursery she's set up. Which gives Sarah a brilliant idea—an idea that could fix everyone's problems. An idea that gives Sarah the chance to take care of her big sister for once—instead of the other way around.
But nothing worthwhile is ever easy. After a decade away, Sarah is forced to confront one ghost from her past after another: the father she's lost touch with, the memories of her mother, the sweet guy she dumped horribly in high school. Soon everything that matters is on the line—and Sarah can only hope that by changing her life she has changed her luck, too.
Katherine Center is the author of two novels about love and family —The Bright Side of Disaster and Everyone is Beautiful— and has two more on the way. Her books and essays have appeared in Redbook, People, USA Today, Vanity Fair, Real Simple, the Dallas Morning News, and the Houston Chronicle, as well as the anthology Because I Love Her. Varsity Pictures optioned Katherine's first novel last fall, and Library Journaljust called her new novel, Get Lucky, "another thoroughly enjoyable girlish romp." Katherine lives in Houston with her husband and two young children.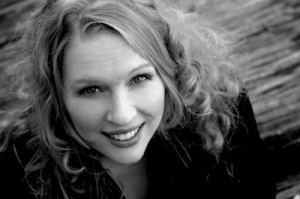 Visit Katherine's blog HERE.
Click HERE to follow Katherine on Twitter.
.
.
.
.
Katherine Center's TLC Book Tours TOUR STOPS:
Thursday, April 1st:  Bermuda Onion
Friday, April 2nd:  Stephanie's Written Word
Monday, April 5th:  Book Club Classics!
Tuesday, April 6th:  Thoughts of an Evil Overlord
Wednesday, April 7th:  Pop Culture Junkie
Thursday, April 8th:  Caribousmom
Friday, April 9th:  Write for a Reader
Monday, April 12th:  Peeking Between the Pages
Tuesday, April 13th:  Luxury Reading
Wednesday, April 14th:  S. Krishna's Books
Thursday, April 15th:  My Friend Amy
Friday, April 16th:  Lit and Life
Monday, April 19th:  Park City Girl
Tuesday, April 20th:  The 3 R's Blog
Wednesday, April 21st:  Jenn's Bookshelves
Thursday, April 22nd:  Maw Books
Monday, April 26th:  Write Meg!
Tuesday, April 27th:  Rundpinne
Wednesday, April 28th:  Diary of an Eccentric