About Keeping the Feast: One Couple's Story of Love, Food, and Healing in Italy
Publisher: Riverhead Hardcover
Publication Date: 2/18/2010
Pages: 272
Keeping the Feast is a story of love, trauma, and the personal and marital healing that can come from a beautiful place and its simple traditions. It's a memoir about what happens when tragedy and its psychological aftershocks strike a previously happy marriage and a couple must stubbornly fight to find its bearings. Most significantly, it is a book about the power of one of the most fundamental rituals – the daily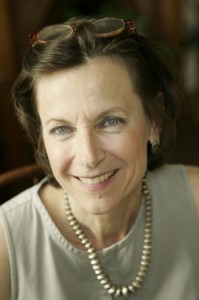 sharing of food around a family table. Food — the growing, shopping, preparing, cooking, eating, talking, sharing and memory of it — becomes the symbol of a family's innate desire to survive, to accept and even celebrate what falls its way.
About Paula Butturini
Paula Butturini has worked in overseas bureaus in London, Madrid, Rome, and Warsaw for United Press International and the Chicago Tribune. She is now a writer based in Paris.
Visit Paula's website HERE and her blog HERE.
Paula Butturini's TLC Book Tours TOUR STOPS:
Monday, January 18th: Tripping Towards Lucidity
Tuesday, January 19th: Park City Girl
Wednesday, January 20th: Baking Delights
Thursday, January 21st: Brunette on a Budget
Tuesday, January 26th: Farmgirl Fare
Tuesday, January 26th: Farmgirl Fare author's recipe
Wednesday, January 27th: Booklust
Thursday, January 28th: Booklust (Rosie's Riveters- guest post)
Tuesday, February 2nd: Peeking Between the Pages
Wednesday, February 3rd: Dolce Bellezza
Thursday, February 4th: Caribousmom
Tuesday, February 9th: Books, Lists, Life
Wednesday, February 10th: Book Addiction
Monday, February 22nd: Books on the Brain– Reading Series Discussion