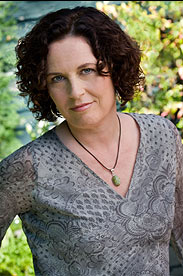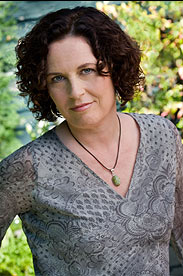 Bestselling author Jennie Shortridge has four published novels: Riding with the Queen, (NAL 2003), Eating Heaven (2005),  Love and Biology at the Center of the Universe (2008), and now When She Flew (2009). Prior to writing novels, her nonfiction work appeared regularly in magazines and newspapers, including Glamour, Mademoiselle, Natural Home, and others. The Seattle writer has been called "an accomplished and superior novelist" by the Statesmen Journal and "a writer to watch out for," by the Rocky Mountain News.
When not writing, she spends time in the community helping kids and adults learn to write better, and has recently co-founded (with fellow Seattle author Garth Stein) a collective of Northwest authors (Seattle7Writers.org) who use their powers for good in the community as well.

Paperback: 352 pages
Publisher: NAL Trade (November 3, 2009)
When She Flew, Jennie's fourth novel, was inspired by true events, and after much research, she let her imagination run wild to create this evocative story of an Iraq war vet raising his daughter in the wild and the single mom/policewoman who breaks all the rules when ordered to separate them, risking everything to help them escape. This story explores the issues of raising children in today's world, living within the system as opposed to rejecting it, the toll of war on families, and introduces a young heroine raised in the forest who thrives through the worst of circumstances.  Publishers Weekly says, "Examining people willing to sidestep the rules in pursuit of a greater good, Shortridge's fourth novel recalls Barbara Kingsolver's Pigs in Heaven…"
Learn more about When She Flew on Jennie's website.
Jennie Shortridge's TLC Book Tours TOUR STOPS:
Thursday, December 3rd:  The 3 R's Blog: Reading, 'Riting, and Randomness
Monday, December 7th:  Linus' Blanket
Tuesday, December 8th:  Book, Line, and Sinker
Wednesday, December 9th:  Luxury Reading
Thursday, December 10th:  The Literate Housewife Review
Monday, December 14th:  Book Addiction
Tuesday, December 15th:  Hey, Lady!  What'cha Readin'?
Wednesday, December 16th:  A Novel Menagerie
Thursday, December 17th:  Book Club Classics
Tuesday, December 22nd:  Dolce Bellezza
Monday, December 28th:  Book Chatter
Tuesday, December 29th:  Caribousmom
Wednesday, December 30th:  Presenting Lenore
Thursday, December 31st:   Entertainment Realm
Monday, January 4th:  The Brain Lair
Tuesday, January 5th:  Redlady's Reading Room