About Allyson Roy
Allyson Roy translates into Alice & Roy, husband and wife collaborating authors. Roy, a graduate of the University Of The Arts in Philadelphia, has a background in theater, art and standup comedy. Alice, dancer/choreographer/teacher, double majored in dance and philosophy at the State University of New York. They spent many gypsy years living and working in the different neighborhoods of New York City and Philadelphia. Aside from being marriage and writing partners, they are also best friends, which is reflected in the heartfelt, go-the-distance friendship of their two main characters.
Allyson Roy's website
About Babydoll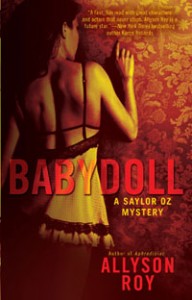 Combining wacky humor with gritty, urban suspense and a dash of romance, BABYDOLL is the second book in the Madcap Noir Saylor Oz mystery series set in Brooklyn's DUMBO neighborhood.
Three dead fashion models. A womanizing agent on the hunt for virgin talent. A daredevil boxer turned high-rise window washer. A burned out porn actress with a grudge. A pretty boy Irish illegal who's good with a knife. A world famous lawyer with a bad case of self-importance.
It would all be just another tabloid headline to Saylor Oz — except the young Nuyorican artist wrongly convicted of the killings is the brother of Benita Morales, her best friend.
Height-challenged, warmhearted oddball, Saylor Oz, is convinced someone is reenacting murders from an old, X-rated movie called Bad, Bad Babydoll. But no one else thinks so, not even the sexy PI on the case. In her hunt to find the killer, Saylor ends up being part of a young genius designer's zany plan to tweak the fashion world — and becomes the killer's next target.
"Babydoll is a fast, fun read with action that never stops. Allyson Roy is a future star."
—New York Times bestselling author Karen Robards
"Gripping . . . fun . . . exciting . . . hard to put down . . . comparable to Janet Evanovich's Stephanie Plum novels (with) a bit more substance and more going for it . . . a sure-to-be successful series"
—Bookreporter.com
" . . . will leave you breathless. I would recommend this to any hip, modern adult who likes thrilling rides, hot men, and women who know how to hold their own."
— Front Street Reviews
" . . . fast paced . . . laugh out loud escapades."
— Follow The Clue
Allyson Roy's TLC Book Tours TOUR STOPS
Tuesday, August 18th: The Eclectic Book Lover
Wednesday, August 19th: Jenn's Bookshelf
Tuesday, August 25th: Jen's Book Thoughts
Wednesday, August 26th: Cheryl's Book Nook
Thursday, August 27th: Reading With Monie
Monday, August 31st: Books on the Brain (guest post)
Wednesday, September 2nd: Chick With Books
Monday, September 7th: Stephanie's Confessions of a Book-a-holic
Tuesday, September 8th: GalleySmith
Wednesday, September 9th: Bookgasm
Thursday, September 10th: I'm Booking It