Hardcover: 432 pages
Publisher: Crown (June 5, 2012)
Marriage can be a real killer. One of the most critically acclaimed suspense writers of our time, New York Times bestseller Gillian Flynn, takes that statement to its darkest place in this unputdownable masterpiece about a marriage gone terribly, terribly wrong. As The Washington Post proclaimed, her work "draws you in and keeps you reading with the force of a pure but nasty addiction." Gone Girl's toxic mix of sharp-edged wit with deliciously chilling prose creates a nerve-fraying thriller that confounds you at every turn.
On a warm summer morning in North Carthage, Missouri, it is Nick and Amy's fifth wedding anniversary. Presents are being wrapped and reservations are being made when Nick Dunne's clever and beautiful wife disappears from their rented McMansion on the Mississippi River. Husband-of-the-Year Nick Dunne isn't doing himself any favors with cringe-worthy daydreams about the slope and shape of his wife's head, but hearing from Amy through flashbacks in her diary reveal the perky perfectionist could have put anyone dangerously on edge. Under mounting pressure from the police and the media—as well as Amy's fiercely doting parents—the town golden boy parades an endless series of lies, deceits, and inappropriate behavior. Nick is oddly evasive, and he's definitely bitter—but is he really a killer?  With his twin sister Margo at his side, Nick stands by his innocence. Trouble is, if Nick didn't do it, where is that beautiful wife? And what was left in that silvery gift box hidden in the back of her bedroom closet?
Employing her trademark razor-sharp writing and assured psychological insight, Gillian Flynn delivers a fast-paced, devilishly dark, and ingeniously plotted thriller that confirms her status as one of the hottest writers around.
"Gone Girl is one of the best and most frightening portraits of psychopathy I've ever read. Nick and Amy manipulate each other with savage, merciless and often darkly witty dexterity. This is a wonderful and terrifying book about how the happy surface normality and the underlying darkness can become too closely interwoven to separate." –Tana French, New York Times bestselling author of Faithful Place and Into the Woods 
"The plot has it all. I have no doubt that in a year's time I'm going to be saying that this is my favorite novel of 2012. Brilliant." –Kate Atkinson, New York Times bestselling author of Started Early, Took My Dog and Case Histories
"Gone Girl builds on the extraordinary achievements of Gillian Flynn's first two books and delivers the reader into the claustrophobic world of a failing marriage. We all know the story, right? Beautiful wife disappears; husband doesn't seem as distraught as he should be under the circumstances. But Flynn takes this sturdy trope of the 24-hour news cycle and turns it inside out, providing a devastating portrait of a marriage and a timely, cautionary tale about an age in which everyone's dreams seem to be imploding." –Laura Lippman, New York Times bestselling author of The Most Dangerous Thing  and I'd Know You Anywhere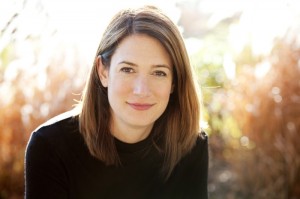 About Gillian Flynn
GILLIAN FLYNN is the author of the New York Times bestseller Dark Places, which was a New Yorker Reviewers' Favorite, Weekend TODAY Top Summer Read, Publishers Weekly Best Book of 2009, and Chicago Tribune Favorite Fiction choice; and the Dagger Award winner Sharp Objects, which was an Edgar nominee for Best First novel, a BookSense pick, and a Barnes & Noble Discover selection. Her work has been published in twenty-eight countries. She lives in Chicago with her husband and son.
For more information on Gillian and her work, visit her website at gillian-flynn.com.
Gillian Flynn's TLC Book Tours TOUR STOPS:
Monday, June 4th:  Book Reviews by Elizabeth A. White
Tuesday, June 5th:  "That's Swell!"
Wednesday, June 6th:  Girls Just Reading
Wednesday, June 6th:  The Huffington Post Books – Gillian Flynn interview
Thursday, June 7th:  Bewitched Bookworms
Monday, June 11th:  A Bookworm's World
Wednesday, June 13th:  Stephanie's Written Word
Thursday, June 14th:  Life in Review
Friday, June 15th:  House of Crime and Mystery
Monday, June 18th: A Chick Who Reads
Tuesday, June 19th:  Lesa's Book Critiques
Wednesday, June 20th:  Jen's Book Thoughts
Thursday, June 21st:  Life in the Thumb
Friday, June 22nd:  Jenn's Bookshelves
Tuesday, June 26th:  You've GOTTA Read This!
Tuesday, July 3rd:  Twisting the Lens
Friday, July 6th:  Chaotic Compendiums
TBD:  Colloquium