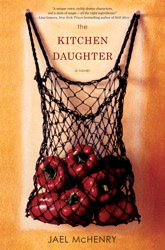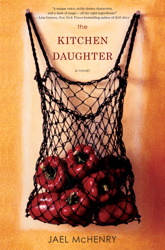 Hardcover: 288 pages
Publisher: Gallery; Original edition (April 12, 2011)
After the unexpected death of her parents, painfully shy and sheltered 26-year-old Ginny Selvaggio seeks comfort in cooking from family recipes. But the rich, peppery scent of her Nonna's soup draws an unexpected visitor into the kitchen: the ghost of Nonna herself, dead for twenty years, who appears with a cryptic warning ("do no let her…") before vanishing like steam from a cooling dish.
A haunted kitchen isn't Ginny's only challenge. Her domineering sister, Amanda, (aka "Demanda") insists on selling their parents' house, the only home Ginny has ever known. As she packs up her parents' belongings, Ginny finds evidence of family secrets she isn't sure how to unravel. She knows how to turn milk into cheese and cream into butter, but she doesn't know why her mother hid a letter in the bedroom chimney, or the identity of the woman in her father's photographs. The more she learns, the more she realizes the keys to these riddles lie with the dead, and there's only one way to get answers: cook from dead people's recipes, raise their ghosts, and ask them.
"A delectable family drama, The Kitchen Daughter whips up a sumptuous blend of suspense, magic and cooking. A nourishing debut."
— Allison Winn Scotch, New York Times bestselling author of The One That I Want
"A unique voice, richly drawn characters, and a dash of magic–all the right ingredients!"– New York Times bestseller Lisa Genova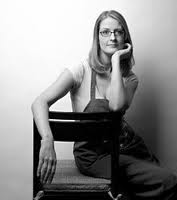 Jael McHenry is a talented and enthusiastic amateur cook who blogs about food and cooking at the SIMMER blog, http://simmerblog.com. She is a monthly pop culture columnist and Editor-in-Chief of Intrepid Media, online at intrepidmedia.com. Her work has appeared in publications such as the North American Review, Indiana Review, and the Graduate Review at American University, where she earned her MFA in Creative Writing. She lives in New York City.
Connect with Jael:
On her website, jaelmchenry.com
On her blog, the SIMMER blog
On Twitter
On Facebook
Jael McHenry's TLC Book Tours TOUR STOPS:
Monday, April 11th:  girlichef
Wednesday, April 13th:  Mockingbird Hill Cottage
Thursday, April 14th:  She is Too Fond of Books
Friday, April 15th:  Book Club Classics!
Monday, April 18th:  The Singleton in the Kitchen
Tuesday, April 19th:  Back to Books
Wednesday, April 20th:  Coffee and a Book Chick
Thursday, April 21st:  Books Like Breathing
Monday, April 25th:  Simply Stacie
Tuesday, April 26th:  Book Reviews by Molly
Wednesday, April 27th:  Kahakai Kitchen
Thursday, April 28th:  2 Kids and Tired
Monday, May 2nd:  The Brain Lair
Tuesday, May 3rd:  Stephanie's Written Word
Friday, May 6th:  Book Addiction
Monday, May 9th:  Farmgirl Fare
Tuesday, May 10th:  Overstuffed
Wednesday, May 11th:  Books, Movies, and Chinese Food
Friday, May 13th:  The Literate Housewife Review