Paperback: 448 pages
Publisher: Bantam (March 29, 2011)
"Every good love story has another love hiding within it."
Brokenhearted and still mourning the loss of her husband, Heidi travels with Abbott, her obsessive-compulsive seven-year-old son, and Charlotte, her jaded sixteen-year-old niece, to the small village of Puyloubier in the south of France, where a crumbling stone house may be responsible for mending hearts since before World War II.
There, Charlotte confesses a shocking secret, and Heidi learns the truth about her mother's "lost summer" when Heidi was a child. As three generations collide with one another, with the neighbor who seems to know all of their family skeletons, and with an enigmatic Frenchman, Heidi, Charlotte, and Abbot journey through love, loss, and healing amid the vineyards, warm winds and delicious food of Provence. Can the magic of the house heal Heidi's heart, too?
"Unabashedly romantic and unafraid of melancholy, Asher's book is a real charmer about a Provencal house that casts spells over the lovelorn."
—Kirkus Reviews
"An enchantment of a book, woven out of Bridget Asher's tenderness toward her characters, her love of the French countryside, and a gentle faith in possibilities. It held me spellbound from the first word to the last, when I put it aside with a sigh of both regret and deepest satisfaction….I madly, madly, madly loved this book!"
—BARBARA O'NEAL, author of How to Bake a Perfect Life

"The Provence Cure for the Brokenhearted will have you canceling dinner plans, staying up all hours and flat-out ignoring your family, just so you can keep reading…An absorbing, beautifully written tale about life, death, love, food, and the magic of new possibilities."—J. COURTNEY SULLIVAN, author of Commencement and Maine
"Love and its sweet secrets bloom gloriously in The Provence Cure for the Brokenhearted. Bridget Asher offers up a sumptuous exploration of how grief, love, and joy, when stirred just right, ferry us home to the people and places we most cherish. Asher's novel brims with wisdom and laughter, teaching us anew that hope resides in unexpected places: a charred box of beloved recipes, a troubled child's earthy wisdom, an ailing house in need of an artful hand, a mother who listens to a silent mountain, and a kiss that unlocks the puzzle of what forever truly means."—CONNIE MAY FOWLER, author of How Clarissa Burden Learned to Fly and Before Women Had Wings
About Bridget Asher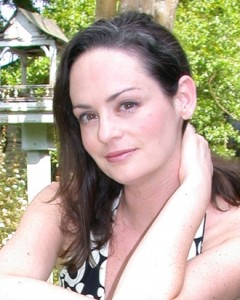 Critically acclaimed, bestselling author Julianna Baggott also writes under the pen names Bridget Asher and N.E. Bode. She has published sixteen books over the last ten years.
Her latest novel, The Pretend Wife, written under the pen name Bridget Asher, was published in June 2009. Her first Bridget Asher novel, My Husband's Sweethearts has sixteen overseas editions. In spring 2011, Random House will publish The Provence Cure for the Broken-Hearted, with another Asher novel under contract.
She lives in Florida with her husband writer David G.W. Scott and their four kids, and is an associate professor at Florida State University's Creative Writing Program.
In 2006, Baggott and her husband co-founded the nonprofit organization Kids in Need – Books in Deed, that focuses on literacy and getting free books to underprivileged children in the state of Florida.
Connect with Bridget on her website, Facebook, Twitter, and on her blog.  Book clubs can request a chat or get reading guide information HERE.
Bridget Asher's TLC Book Tours TOUR STOPS:
Monday, March 28th:  Colloquium
Tuesday, March 29th:  Lori's Reading Corner
Wednesday, March 30th:  Luxury Reading
THursday, March 31st:  Kahakai Kitchen
Friday, April 1st:  Acting Balanced
Monday, April 4th:  Book Club Classics!
Wednesday, April 6th:  Rundpinne
Monday, April 11th:  Peeking Between the Pages
Wednesday, April 13th:  Girlichef
Thursday, April 14th:  Joyfully Retired
Monday, April 18th:  Debbie's Book Bag
Wednesday, April 20th:  Books, Lists, Life
Monday, April 25th:  Caribousmom