To celebrate the trade paperback release of An Echo in the Bone, the 7th book in the wildly popular Outlander series, we are putting the whole series on tour:  Outlander, Dragonfly in Amber, Voyager, Drums of Autumn, The Fiery Cross, A Breath of Snow and Ashes, and An Echo in the Bone!
About An Echo in the Bone
Paperback: 848 pages
Publisher: Bantam; Reprint edition (June 22, 2010)
In this new epic of imagination, time travel, and adventure, Diana Gabaldon continues the riveting story begun in Outlander.
Jamie Fraser is an eighteenth-century Highlander, an ex-Jacobite traitor, and a reluctant rebel in the American Revolution. His wife, Claire Randall Fraser, is a surgeon—from the twentieth century. What she knows of the future compels him to fight. What she doesn't know may kill them both.
With one foot in America and one foot in Scotland, Jamie and Claire's adventure spans the Revolution, from sea battles to printshops, as their paths cross with historical figures from Benjamin Franklin to Benedict Arnold.
Meanwhile, in the relative safety of the twentieth century, their daughter, Brianna, and her husband experience the unfolding drama of the Revolutionary War through Claire's letters. But the letters can't warn them of the threat that's rising out of the past to overshadow their family.
Diana Gabaldon's sweeping Outlander saga reaches new heights in An Echo in the Bone.  Read an excerpt on Diana's website HERE.
About Outlander, the book that started it all..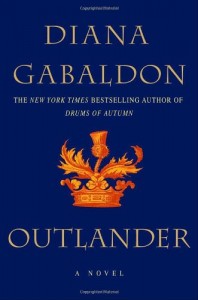 Unrivaled storytelling … unforgettable characters … rich historical detail … these are the hallmarks of Diana Gabaldon's work. Her New York Times bestselling Outlander novels have earned the praise of critics and captured millions of readers.
Here is the story that started it all, introducing two remarkable characters, Claire Randall and Jamie Fraser, in a spellbinding novel of passion and history that combines exhilarating adventure with a love story for the ages….
The year is 1945. Claire Randall, a former combat nurse, is back from the war and reunited with her husband on a second honeymoon — when she walks through a standing stone in one of the ancient stone circles that dot the British Isles. Suddenly she is a Sassenach — an "outlander" — in a Scotland torn by war and raiding Highland clans in the year of Our Lord … 1743.
Hurled back in time by forces she cannot understand, Claire is catapulted into intrigues and dangers that may threaten her life … and shatter her heart. For here she meets James Fraser, a gallant young Scots warrior, and becomes a woman torn between fidelity and desire … and between two vastly different men in two irreconcilable lives.
About Diana Gabaldon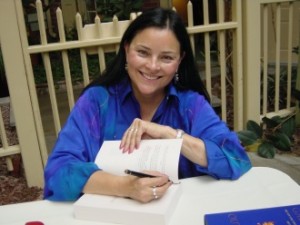 Diana Gabaldon is the New York Times bestselling author of the wildly popular Outlander novels–Outlander, Dragonfly in Amber, Voyager, Drums of Autumn, The Fiery Cross, and A Breath of Snow and Ashes (for which she won a Quill Award and the Corine International Book Prize)–and one work of nonfiction, The Outlandish Companion, as well as the bestselling series featuring Lord John Grey, a character she introduced in Voyager. She lives in Scottsdale, Arizona.
Connect with Diana:
On her Website
On Facebook
Diana Gabaldon's TLC Book Tours TOUR STOPS:
Monday, August 2nd:  Jenn's Bookshelves (An Echo in the Bone)
Wednesday, August 4th:  The Literate Housewife Review (Voyager)
Monday, August 9th:  Musings of an All Purpose Monkey (Outlander)
Thursday, August 12th:  Under the Boardwalk (An Echo in the Bone)
Friday, August 13th:  Starting Fresh (An Echo in the Bone)
Monday, August 16th:  Planet Books (Outlander)
Wednesday, August 25th:  MoonCat Farms Meanderings (An Echo in the Bone)
Tuesday, August 31st:  The Brain Lair (Outlander)
Wednesday, September 1st:  My Two Blessings (Outlander)
Thursday, September 2nd:  Life in the Thumb (An Echo in the Bone)
Tuesday, September 7th:  That's What She Read (Dragonfly in Amber)
Monday, September 13th:  Suko's Notebook (Outlander)
Tuesday, September 14th:  Luxury Reading (Outlander)
Wednesday, September 15th:  The Adventures of an Intrepid Reader (An Echo in the Bone)
Friday, September 17th:  Devourer of Books (Outlander)
Tuesday, September 21st:  Rundpinne (An Echo in the Bone)
Monday, September 27th:  Hey, Lady!  Whatcha Readin'? (Outlander)
Thursday, September 30th:  Pop Culture Junkie (Outlander)