Paperback: 336 pages
Publisher: Bantam; Original edition (May 25, 2010)
Hearts on a String delves deeply into the emotions of five very different women who are thrown together by chance-only to discover that they have more in common than they ever could have imagined.
Holly Blandeen has always cherished the story her grandmother told her about the thread that connects all women, tying them forever in sisterhood. It's a beautiful idea, but with all the curveballs life has thrown her way, Holly has often felt isolated, different from other women. That starts to change when she meets four strangers in an airport and they agree to share a luxury hotel suite because a powerful spring storm is barreling across the country, stranding travelers from California to Florida.
What begins as a spur-of-the-moment decision becomes an unlikely, unexpected, and sometimes reluctant exercise in female bonding, as these five exceptional women-each at a crossroads-swap stories, share secrets, and seek answers to the questions they've been asking about life, love, and the path to true happiness. A storm may have grounded them for the moment, but after this wild adventure in which anything can and does happen, they'll never have to fly solo again.
"Kris Radish creates characters that seek and then celebrate the discovery of . . . women's innate power."—Denver Post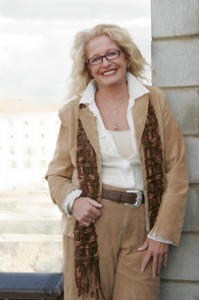 Hearts on a String is Kris Radish's 7th book. Her Bantam Dell novels THE ELEGANT GATHERING OF WHITE SNOWS, DANCING NAKED AT THE EDGE OF DAWN and ANNIE FREEMAN'S FABULOUS TRAVELING FUNERAL have been on the bestseller and Book Sense 76 Selection lists. She also writes two weekly nationally syndicated columns.  Ms. Radish lives and works in the San Francisco Bay area.
Connect with Kris:
On her website
On Twitter
On Facebook
On her blog
Kris Radish's TLC Book Tours TOUR STOPS:
Monday, July 5th:  Joyfully Retired
Wednesday, July 7th:  Sashay Magazine
Thursday, July 9th:  Scraps of Life
Wednesday, July 14th:  Simply Stacie
Thursday, July 15th:  Rundpinne
Friday, July 16th:  A Bookish Way of Life
Monday, July 19th:  Reading at the Beach
Tuesday, July 20th:  Lit and Life
Monday, July 26th:  Anniegirl1138
Tuesday, July 27th:  Luxury Reading
Wednesday, July 28th:  Along the Way
Monday, August 2nd:  My Random Acts of Reading
Wednesday, August 4th:  One Person's Journey Through a World of Books
Monday, August 9th:  Crazy for Books
Monday, August 16th:  Peeking Between the Pages