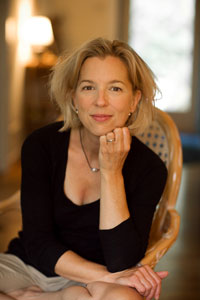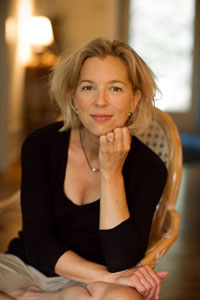 Kathleen McCleary was born and raised in Grosse Pointe Farms, Mich., and lived in New York, Tennessee, and Virginia before settling in Oregon in 1992. She has worked as a staff writer and editor and freelance writer for a variety of publications, including The New York Times, The Washington Post, USA Weekend, Good Housekeeping, More, Health, Martha Stewart Living, and Ladies Home Journal. She was a columnist for several years for HGTV.com.
A 2004 job opportunity for her husband brought her reluctantly back to Virginia (which is a beautiful and friendly state that had nothing to do with her discontent other than the fact that it wasn't Oregon). The move sparked the idea for a novel, and she spent almost three years writing House and Home, while also working as a freelance writer and as a barista at the local, independently owned coffee shop in her town.
She lives in northern Virginia with her husband, two daughters, and two cats.  She recently finished her second novel and is hard at work on a third.
Visit Kathleen's website HERE.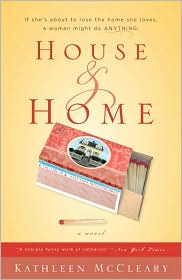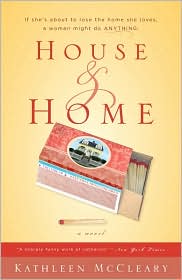 Kathleen's novel, House and Home, is the story of a woman who loves her house so much, she'll do just about anything to keep it.
Ellen Flanagan has two precious girls to raise, a cozy neighborhood coffee shop to run, terrific friends, and a sexy husband. She adores her house, a yellow Cape Cod filled with quirky antiques, beloved nooks and dents, and a million memories. But now, at forty-four, she's about to lose it all.
After eighteen roller-coaster years of marriage, Ellen's husband, Sam–who's charismatic, spontaneous, and utterly irresponsible–has disappointed her in more ways than she can live with, and they're getting divorced. Her daughters are miserable about losing their daddy. Worst of all, the house that Ellen loves with all her heart must now be sold.
Ellen's life is further complicated by a lovely and unexpected relationship with the husband of the shrewish, social-climbing woman who has purchased the house. Add to that the confusion over how she really feels about her almost-ex-husband, and you have the makings of a delicious novel about what matters most in the end . . .
Set in the gorgeous surroundings of Portland, Oregon, Kathleen McCleary's funny, poignant, curl-up-and-read debut strikes a deep emotional chord and explores the very notion of what makes a house a home.
You can read more about House and Home HERE and can visit Kathleen McCleary's website HERE.
Kathleen McCleary's TLC Book Tours TOUR STOPS:
Tuesday, September 1st:  A Novel Menagerie (and interview)
Wednesday, September 2nd: cottage
Thursday, September 3rd:  Book Club Classics
Tuesday, September 8th:  Book Addiction
Wednesday, September 9th: A Lifetime of Books (and guest post)
Thursday, September 10th:  A Reader's Journal
Monday, September 14th: Beach House: Uniquely Modern
Tuesday, September 15th:  Worducopia
Wednesday, September 16th: Mabel's House
Monday, September 21st:  Stephanie's Written Word
Tuesday, September 22nd: Cottage Affairs
Wednesday, September 30th:  Peeking Between the Pages