Paperback: 320 Pages
Publisher: Thomas Nelson (October 20, 2020)
From the bestselling author of The Convenient Groom and A December Bride (now beloved Hallmark Original movies) comes the third and final novel in the Bluebell Inn series!
When a mysterious man turns up at Grace's family-run inn, it's instant attraction. But she's already got a lot on her plate: running the Bluebell Inn, getting Blue Ridge Outfitters off the ground, and coping with a childhood event she'd thought was long past.
A gunshot wound has resurrected the past for secret service agent Wyatt Jennings, and a mandatory leave of absence lands him in Bluebell, North Carolina. There he must try and come to grips with the crisis that altered his life forever.
Grace needs experience for her new outfitters business, so when Wyatt needs a mountain guide, she's more than happy to step up to the plate. As their journey progresses, Grace soon has an elusive Wyatt opening up, and Wyatt is unwittingly drawn to Grace's fresh outlook and sense of humor.
There's no doubt the two have formed a special bond, but will Wyatt's secrets bring Grace's world crashing down? Or will those secrets end up healing them both?

Purchase Links
About Denise Hunter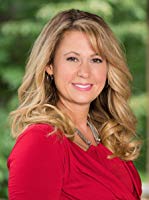 Denise Hunter is the internationally published bestselling author of more than 25 books, including A December Bride and The Convenient Groom, which have been adapted into original Hallmark Channel movies. She has won The Holt Medallion Award, The Reader's Choice Award, The Carol Award, The Foreword Book of the Year Award, and is a RITA finalist. When Denise isn't orchestrating love lives on the written page, she enjoys traveling with her family, drinking green tea, and playing drums. Denise makes her home in Indiana where she and her husband are rapidly approaching an empty nest.
Connect with Denise
Denise Hunter's TLC Book Tours TOUR STOPS:
Monday, October 19th: Mom Loves Reading and @mom_loves_reading
Monday, October 19th: @niks_nook
Tuesday, October 20th: Books & Spoons
Tuesday, October 20th: @lifeinlit
Thursday, October 22nd: Bewitched Bookworms
Thursday, October 22nd: The Romance Dish
Friday, October 23rd: @angelareadsbooks
Friday, October 23rd: View from the Birdhouse
Saturday, October 24th: Nurse Bookie and @nurse_bookie
Monday, October 26th: Leighellen Landskov and @mommaleighellensbooknook
Monday, October 26th: Kritter's Ramblings
Tuesday, October 27th: Book Reviews and More by Kathy
Tuesday, October 27th: @paperbacksandpeonies
Wednesday, October 28th: Into the Hall of Books
Thursday, October 29th: @bluntscissorsbookreviews
Friday, October 30th: What is That Book About
Monday, November 2nd: @pnwbookworm
Monday, November 2nd: Amy's Book-et List and @amysbooketlist
Tuesday, November 3rd: Hallie Reads
Wednesday, November 4th: @beritaudiokilledthebookmark
Thursday, November 5th: From the TBR Pile
Monday, November 9th: Girl Who Reads
Tuesday, November 10th: Blooming with Books
Wednesday, November 11th: Run Wright and @karen_runwright
Saturday, November 28th: Moonlight Rendezvous