Paperback: 336 Pages
Publisher: Thomas Nelson (August 18, 2020)
Determined to save their marriage and the city they love, two people divided by World War II's secrets rebuild their lives, their love, and their world.
London, Fall 1945. Architectural historian Diana Somerville's experience as a codebreaker at Bletchley Park and her knowledge of London's churches intersect in MI6's pursuit of a Russian agent named Eternity. Diana wants nothing more than to begin again with her husband Brent after their separation during the war, but her signing of the Official Secrets Act keeps him at a distance.
Brent Somerville, professor of theology at King's College, hopes aiding his wife with her church consultations will help him better understand why she disappeared when he needed her most. But he must find a way to reconcile his traumatic experiences as a stretcher bearer on the European front with her obvious lies about her wartime activities and whereabouts.
Featuring a timeless love story bolstered by flashbacks and the excavation of a priceless Roman artifact, The London Restoration is a richly atmospheric look at post-war London as two people changed by war rebuild amidst the city's reconstruction.

Purchase Links
About Rachel McMillan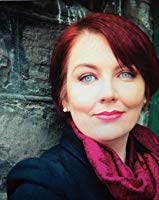 Rachel McMillan is the author of the Herringford and Watts mysteries, the Three Quarter Time series of contemporary romances set in opulent Vienna, and the Van Buren and DeLuca mysteries praised for bringing an authentic 1930's Boston world to life while normalizing the fictional conversation surrounding mental illness. Her first work of non-fiction, described as a romantic's guide to independent travel, releases in 2020. Rachel lives in Toronto, Canada.
Connect with Rachel
Rachel McMillan's TLC Book Tours TOUR STOPS:
Monday, August 17th: Blooming with Books
Tuesday, August 18th: @my_read_feed
Wednesday, August 19th: Reading Reality
Thursday, August 20th: Books Cooks Looks
Friday, August 21st: @randi_reads
Saturday, August 22nd: Nurse Bookie and @nurse_bookie
Monday, August 24th: Christian Chick's Thoughts
Tuesday, August 25th: Living My Best Book Life and @livingmybestbooklife
Wednesday, August 26th: @shobizreads
Thursday, August 27th: @lowkey.bookish
Friday, August 28th: The Lit Bitch and @thelit_bitch
Monday, August 31st: @babygotbooks13
Wednesday, September 2nd: @readsrandiread
Thursday, September 3rd: @mommaleighellensbooknook
Sunday, September 6th: @shawntaye1
Monday, September 7th: She Just Loves Books and @shejustlovesbooks
Wednesday, September 9th: @meetmeinthestacks
Wednesday, September 9th: Bloggin' 'Bout Books
Thursday, September 10th: Girl Who Reads
Friday, September 11th: @rendezvous_with_reading
Wednesday, September 16th: @books_with_bethany