Paperback: 319 Pages
Publisher: Lake Union Publishing (September 22, 2020)
From the Amazon Charts bestselling author of Whisper Me This comes an emotional and sharply witty novel about how life's unexpected detours can ultimately bring you home.
For twenty-six years Liz has perfectly played the part of Mrs. Thomas Lightsey, exemplary pastor's wife and mother. But maintaining appearances for the congregation and catering to her demanding husband takes a toll, and she's lost herself in meeting the expectations of others. When Thomas suddenly dies, Liz feels shock, grief, and, to her surprise, the siren song of freedom. Dare she dream of a life to call her own?
Despite the resistance of her daughter, Abigail, to even the smallest changes, Liz lands a role at the community theater. Inspired by new friends and the character she plays, she explores life's possibilities, including an unexpected—and steamy—relationship with her leading man.
Just when Liz thinks she might be winning, life hits her with an unthinkable shock. She's pregnant at forty-nine. Torn between conflicting loyalties to her daughter, her lover, her unborn baby, and herself, can Liz find a way to rebuild her dream life one more time?

Purchase Links
About Kerry Anne King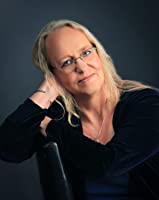 Kerry Anne King is the sidekick, alter ego, and touchier-feelier doppelgänger of fantasy and paranormal thriller writer, Kerry Schafer. She is the author of three works of women's fiction, with number four releasing on October 1, 2019, and her last novel, Whisper Me This, was a Washington post and Amazon charts bestseller. Kerry Anne is the proud possessor of a tugboat, a Viking, and forty acres of rocks and trees in the middle of rural northeastern Washington. In addition to writing novels, she is an RN and licensed mental health counselor, a writing mindset coach, and a serious coffee snob. She is kept in line by three cats, a dog, and the aforementioned Viking. Her favorite leisure activities involve reading, yoga, and long walks in the woods.
Connect with Kerry
Kerry Anne King's TLC Book Tours TOUR STOPS:
Monday, September 21st: @bluntscissorsbookreviews
Tuesday, September 22nd: The OC Book Girl and @theocbookgirl
Wednesday, September 23rd: @readsrandiread
Thursday, September 24th: Living My Best Book Life and @livingmybestbooklife
Friday, September 25th: @the_unwined
Monday, September 28th: @the.caffeinated.reader
Wednesday, September 30th: @readswithrosie
Thursday, October 1st: Where the Reader Grows and @wherethereadergrows
Friday, October 2nd: The Book Diva's Reads
Saturday, October 3rd: @iowaamberreads
Monday, October 5th: @bookncatsncoffee
Tuesday, October 6th: PhDiva Blog and @thephdivabooks
Wednesday, October 7th: @thereadingroom444
Thursday, October 8th: Amy's Book-et List and @amysbooketlist
Wednesday, October 14th: Eliot's Eats
Thursday, October 15th: @thebookend.diner