___________________________
From the revered author of the bestselling The Hidden Life of Dogs, a witty, engaging, life-affirming account of the joy, strength, and wisdom that comes with age.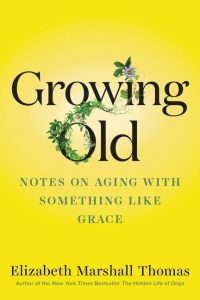 Growing Old by Elizabeth Marshall Thomas
Elizabeth Marshall Thomas has spent a lifetime observing the natural world, chronicling the customs of pre-contact hunter-gatherers and the secret lives of deer and dogs. In this book, the capstone of her long career, Thomas, now eighty-eight, turns her keen eye to her own life. The result is an account of growing old that is at once funny and charming and intimate and profound, both a memoir and a life-affirming map all of us may follow to embrace our later years with grace and dignity.
A charmingly intimate account and a broad look at the social and historical traditions related to aging, Growing Old explores a wide range of issues connected with growing older, from stereotypes of the elderly as burdensome to the methods of burial humans have used throughout history to how to deal with a concerned neighbor who assumes you're buying cat food to eat for dinner.
Written with the wit of Nora Ephron's I Feel Bad About My Neck and the lyrical beauty and serene wisdom of When Breath Becomes Air, Growing Old is an expansive and deeply personal paean to the beauty and the brevity of life that offers understanding for everyone, regardless of age.

Purchase Links
___________________________
Explore how to live a life of joy and fullness, especially in the midst of disappointment and broken dreams.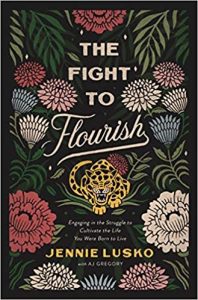 The Fight to Flourish by Jennie Lusko
How do you live a full life? Perhaps the better question is, how do you really live when life throws you sucker punches, when you face obstacles that seem to snuff out your faith, when you lose something or someone precious to you? In The Fight to Flourish, Jennie Lusko encourages women to suit up and thrive, not just in the dailies of monotony and routine but even in the most desolate of places. Using the backdrop of her second-born daughter Lenya's passing into heaven five days before Christmas in 2012, Jennie invites readers to embrace whatever destination they've landed. She teaches how, through the good and the bad, they can learn to grow, be strong, draw near to God, and be a blessing to others. It is in this sacred space of pain and promise that women can begin to flourish.

Purchase Links
___________________________

Please fill out our super short registration form (click the "Enter Now" button above) by May 31st for a chance to win a set of up to ten copies of one of these great books for your book club! We will randomly choose a winner at the end of the month. This giveaway is open to clubs in the US only (our apologies to friends in other countries). 
Best of luck!
We 
LOVE

 Book Clubs!