Join us for an Instagram and Review tour for
Hardcover: 288 Pages
Publisher: Thomas Nelson (May 5, 2020)
Explore how to live a life of joy and fullness, especially in the midst of disappointment and broken dreams.
How do you live a full life? Perhaps the better question is, how do you really live when life throws you sucker punches, when you face obstacles that seem to snuff out your faith, when you lose something or someone precious to you? In The Fight to Flourish, Jennie Lusko encourages women to suit up and thrive, not just in the dailies of monotony and routine but even in the most desolate of places. Using the backdrop of her second-born daughter Lenya's passing into heaven five days before Christmas in 2012, Jennie invites readers to embrace whatever destination they've landed. She teaches how, through the good and the bad, they can learn to grow, be strong, draw near to God, and be a blessing to others. It is in this sacred space of pain and promise that women can begin to flourish.

Purchase Links
About Jennie Lusko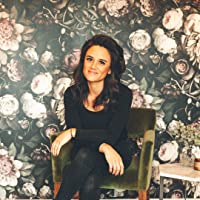 Jennie Lusko serves alongside her husband, Levi, leading Fresh Life Church in Montana, Utah, Oregon, and Wyoming. They have five incredible children: Alivia, Daisy, Clover, Lennox, and Lenya, who is in heaven. The Luskos live in Montana, which boasts the largest snowflake ever recorded in history, one and a half times larger than a competition frisbee. One of Jennie's greatest joys and calling is sharing the hope and freedom found in Jesus to those stranded in sin. She feels most alive when she's helping people and giving gifts.
Connect with Jennie
Instagram features:
Friday, May 15th: @mommaleighellensbooknook
Sunday, May 17th: @livingmybestbooklife
Monday, May 18th: @angelareadsbooks
Wednesday, May 20th: @readeatrepeat1
Friday, May 22nd: @sarahs_reads
Friday, May 22nd: @bookswithjams
Saturday, May 23rd: @theocbookgirl
Sunday, May 24th: @books_and_broadway
Tuesday, May 26th: @megsbookclub
Thursday, May 28th: @thesketchyreader
Thursday, May 28th: @thewellreadtraveler
Friday, May 29th: @thephdivabooks
Saturday, May 30th: @nurse_bookie
Friday, June 5th: @thesaggingbookshelf
Friday, June 12th: @bluntscissorsbookreviews
Monday, July 6th: @createexploreread
Reviews:
Sunday, May 17th: Living My Best Book Life
Monday, May 18th: Read Eat Repeat – monthly round-up list
Friday, May 22nd: Books with Jams
Tuesday, May 26th: Stranded in Chaos
Tuesday, May 26th: Running Through the Storms
Wednesday, May 27th: Diary of a Stay at Home Mom
Thursday, May 28th: The Sketchy Reader
Friday, May 29th: @lovelyreadergirl
Friday, May 29th: PhDiva Blog
Monday, June 1st: Tabi Thoughts
Saturday, June 20th: @irishgirliereads