Join us for an Instagram tour for
Paperback: 352 Pages
Publisher: Kensington (June 30, 2020)
Against the picturesque coastal Maine setting that she evokes so well, bestselling author Holly Chamberlin creates a heartfelt story of family bonds and new beginnings . . .
It came as no surprise to anyone in Yorktide when glamorous Carol Ascher fled the little Maine town for New York City. While Carol found success as an interior designer, her younger sister, Bonnie, stayed behind, embracing marriage and motherhood. She even agreed to take in Carol's teenage daughter during a tumultuous patch. Now both their girls are grown and Bonnie, recently widowed, is anticipating the day she'll retire to Ferndean House, the nineteenth-century family home on the rocky Maine coast.
But forty-five years after leaving Yorktide, Carol suddenly announces that she's moving back—into Ferndean. Bonnie is indignant. She's the one who kept the homestead in order and tended to their dying mother. Now Carol expects to simply buy her out? As far as Bonnie is concerned, Ferndean is part of their heritage—not just another of Carol's improvement projects, to be torn apart and remade according to her whim.
The entire Ascher family is in flux, uncovering secrets that upend their relationships. Carol's longing to be welcomed home is fueled by a painful truth she's carried for years. It will take an extraordinary summer—in a remarkable place—to lead these women back to each other, buoyed by the tides of friendship and forgiveness.

Purchase Links
About Holly Chamberlin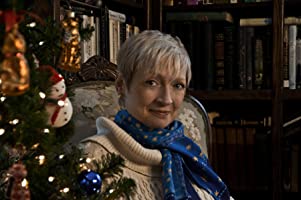 Holly Chamberlin was born and raised in New York City. After earning a Master's degree in English Literature from New York University and working as an editor in the publishing industry for ten years, she moved to Boston, married and became a freelance editor and writer. She and her husband now live in downtown Portland, Maine, in a restored mid-nineteenth-century brick townhouse with Betty, the most athletic, beautiful and intelligent cat in the world.
Connect with Holly
Instagram tour:
Monday, June 15th: @readingfortheweekend
Monday, June 15th: @honeynougats.reads
Tuesday, June 16th: @angelareadsbooks
Tuesday, June 16th: @bookishwithwine
Wednesday, June 17th: @nurse_bookie
Wednesday, June 17th: @3heartsandawish
Thursday, June 18th: @pnwbookworm
Friday, June 19th: @shejustlovesbooks
Friday, June 19th: @mom_loves_reading
Monday, June 22nd: @readingmama_reviews