Paperback: 336 Pages
Publisher: Thomas Nelson  (May 26, 2020)
In this new Regency romance, Elizabeth knows she must protect her heart from the charm of her new husband, Lord Torrington. She is not, however, prepared to protect her life.
When the widowed Lord Torrington agreed to spy for the crown, he never planned to impersonate a highwayman, let alone rob the wrong carriage. Stranded on the road with an unconscious young woman, he is forced to propose marriage to protect his identity and her reputation, as well as his dangerous mission.
Trapped not only by her duty to her country but also by her limited options as an unwed mother, Miss Elizabeth Cantrell and her infant son are whisked away to Middlecrest Abbey by none other than the elder brother of her son's absent father. There she is met by Torrington's beautiful grown daughters, a vicious murderer, and an urgent hunt for the missing intelligence that could turn the war with France. Meanwhile she must convince everyone that her marriage is a genuine love match if her new husband has any hope of uncovering the enemy.
Determined to keep her son's true identity a secret, Elizabeth will need to remain one step ahead of her fragile heart, her uncertain future, and the relentless fiend bent on her new family's ruin.

Purchase Links
About Abigail Wilson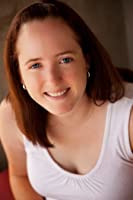 Abigail Wilson combines her passion for Regency England with intrigue and adventure to pen historical mysteries with a heart. A registered nurse, chai tea addict, and mother of two crazy kids, Abigail fills her spare time hiking the national parks, attending her daughter's gymnastic meets, and curling up with a great book. In 2017, Abigail won WisRWA's Fab Five contest and in 2016, ACFW's First Impressions contest as well as placing as a 2017 finalist in the Daphne du Maurier Award for Excellence in Mystery/Suspense. She is a cum laude graduate of the University of Texas at Austin and currently lives in Dripping Springs, Texas, with her husband and children.
Connect with Abigail
Abigail Wilson's TLC Book Tours TOUR STOPS:
Tuesday, May 26th: Reading Reality
Tuesday, May 26th: Run Wright
Thursday, May 28th: Blunt Scissors Book Reviews and @bluntscissorsreviews
Friday, May 29th: Pacific Northwest Bookworm and @pnwbookworm
Monday, June 1st: Christian Bookshelf Reviews
Wednesday, June 3rd: @meetmeinthestacks
Thursday, June 4th: From the TBR Pile
Monday, June 8th: Into the Hall of Books
Tuesday, June 9th: @angelareadsbooks
Wednesday, June 10th: Read Eat Repeat
Thursday, June 11th: Kahakai Kitchen
Saturday, June 13th: @moonlight_rendezvous
Monday, June 15th: Blooming with Books
Tuesday, June 16th: Christian Chick's Thoughts
Wednesday, June 17th: Books Cooks Looks
Monday, June 22nd: @megsbookclub
Tuesday, June 30th: Moonlight Rendezvous