About The Eighth Girl
• Hardcover: 480 pages
• Publisher: William Morrow (March 17, 2020)
Optioned by Netflix and a most anticipated book of 2020 from Bustle, The Rumpus, Electric Literature, and LitHub.

"The Eighth Girl is an exquisite exploration of childhood trauma and its impact on the psyche. Part thriller, part character study, I devoured this novel in one sitting, reflecting on each sentence, each passage, and each astute observation of humanity. A true gem!" — Wendy Walker, bestselling author of The Night Before
In this unsettling, seductive psychological thriller, a young woman with multiple personalities is drawn into London's hellish underworld when she becomes entangled with a man who has an abominable secret, for fans of Caroline Kepnes and Clare Mackintosh.
One woman, multiple personas. But which one is telling the truth?
Beautiful. Damaged. Destructive. Meet Alexa Wú, a brilliant yet darkly self-aware young woman whose chaotic life is manipulated and controlled by a series of alternate personalities. Only three people know about their existence: her shrink Daniel; her stepmother Anna; and her enigmatic best friend Ella. The perfect trio of trust.
When Ella gets a job at a high-end gentleman's club, she catches the attention of its shark-like owner and is gradually drawn into his inner circle. As Alexa's world becomes intimately entangled with Ella's, she soon finds herself the unwitting keeper of a nightmarish secret. With no one to turn to and lives at stake, she follows Ella into London's cruel underbelly on a daring rescue mission. Threatened and vulnerable, Alexa will discover whether her multiple personalities are her greatest asset, or her most dangerous obstacle.
Electrifying and breathlessly compulsive, The Eighth Girl is an omnivorous examination of life with mental illness and the acute trauma of life in a misogynist world. With bingeable prose and a clinician's expertise, Chung's psychological debut deftly navigates the swirling confluence of identity, innocence, and the impossible fracturing weights that young women are forced to carry, causing us to question: Does the truth lead to self-discovery, or self-destruction?
Social Media
Please use the hashtag #theeighthgirl, and tag @tlcbooktours, @williammorrowbooks, and @author_maxinemeifungchung.

Purchase Links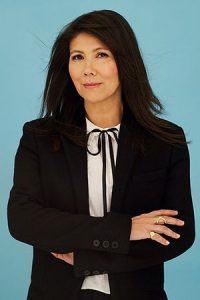 About Maxine Mei-Fung Chung
Maxine Mei-Fung Chun > is a psychoanalytic psychotherapist and clinical supervisor. Trained in the arts, she worked as a Creative Director for ten years at Condé Nast, The Sunday Times and The Times. She lives in London with her son. The Eighth Girl is her first novel.
Find out more about her at her website, and connect with her on Instagram and Twitter.
Instagram Features
Tuesday, March 17th: Instagram: @bluntscissorsbookreviews
Wednesday, March 18th: Instagram: @the.magicalpages
Thursday, March 19th: Instagram: @girlsinbooks
Friday, March 20th: Instagram: @oddandbookish
Saturday, March 21st: Instagram: @beauty_andthebook_
Sunday, March 22nd: Instagram: @readingbetweenthe__wines
Monday, March 23rd: Instagram: @crystals_library
Tuesday, March 24th: Instagram: @jess_reads_books
Wednesday, March 25th: Instagram: @allthebooksandchocolate
Thursday, March 26th: Instagram: @anovelescape
Friday, March 27th: Instagram: @fearyourex
Review Stops
Tuesday, March 17th: Write – Read – Life
Wednesday, March 18th: Instagram: @readingmama_reviews
Thursday, March 19th: Jennifer ~ Tar Heel Reader
Tuesday, March 24th: Thoughts On This 'n That
Wednesday, March 25th: Jessicamap Reviews
Thursday, March 26th: Book by Book
Friday, March 27th: Instagram: @bookapotamus
Monday, March 30th: Reading Girl Reviews
Tuesday, March 31st: Always With a Book
Wednesday, April 1st: A Bookish Way of Life
Sunday, May 3rd: Openly Bookish