About Attainable Sustainable
• Hardcover: 320 pages
• Publisher: National Geographic (March 24, 2020)
Social Media
Please use the hashtag #attainablesustainable, and tag @tlcbooktours and @attainablesustainable.

Purchase Links
About Kris Bordessa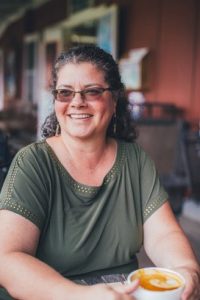 KRIS BORDESSA launched in the hit blog Attainable Sustainable in 2011 to create a community focused on more self-reliant living. She encourages readers to tackle one actionable step each day to embrace simpler living through a DIY lifestyle. Bordessa grew up on a small apple farm in Northern California and is a 2nd generation 4-H member. These days, she lives in Hawai'i with her family, strives for an abundant vegetable garden, and raises a thriving — and often humorous — chicken flock.
Find out more about Bordessa at her website, and follow her on Instagram, Facebook, Pinterest, and YouTube.
Tour Stops
Wednesday, March 25th: Instagram: @books_with_bethany
Thursday, March 26th: Instagram: @dropandgivemenerdy
Thursday, March 26th: Books, Cooks, Looks
Friday, March 27th: A Bookish Affair
Tuesday, March 31st: Living My Best Book Life
Wednesday, April 1st: The Upcycled Family
Friday, April 3rd: It's My Sustainable Life
Monday, April 6th: 5 Acres & A Dream
Monday, April 6th: Instagram: @thehahnestlife
Tuesday, April 7th: Slow Living Homestead
Tuesday, April 14th: A Bookish Way of Life
Wednesday, April 15th: PNW Pixie
Wednesday, April 15th: Little Frugal Homestead
Monday, April 20th: The Inspired Prairie