About Little Wonders
• Paperback: 384 pages
• Publisher: William Morrow Paperbacks (March 17, 2020)
If you like SMALL ADMISSIONS by Amy Poepell or CLASS MOM by Laurie Gelman you will love this novel about super mommies, private schools, and getting your worst moment plastered across the internet.
Her mommy meltdown is seen around the world!
When Quinn Barrett's son refuses to wear his hand-crafted costume to the Little Wonders Preschool Happy Halloween Parade and Dance Party she loses it — complete with stomping, screaming, and costume-destruction galore. Not her best day. And caught on viral video.   Yep, "Halloween Mom" is now internet famous.
The posting culprit: tattooed, blue-haired, west-coast transplant Daisy McGulch, out of place in the posh New England town and unable to blend with the other perfect mommies of Little Wonders Preschool.
While she couldn't care less about organic snacks (paleo-preferred) or the winter quarters of the Little Wonders chickens, she's not about to admit she's the one who accidently brought Quinn's worst moment to the entire world—she'd be kicked out of town!
But when Quinn and Daisy find themselves unlikely cohorts in the fight for Little Wonders Parents Association supremacy, they also discover they have more in common than they expected…but the internet is forever.  Can Quinn live down her new reputation?  And how far will Daisy go to keep the truth from coming to light?
Hilarious, clever, and unforgettable, Little Wonders offers a glimpse into the high-pressure world of modern momming, with natural toys, scrutinized playdates, PTA politics, and social media gone amok.
Social Media
Please use the hashtag #littlewonders, and tag @tlcbooktours, @williammorrowbooks, and @noblerorick.

Purchase Links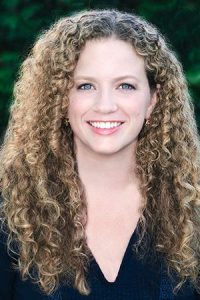 About Kate Rorick
Emmy Award-winning writer Kate Rorick is the author of novels about modern motherhood.  She is also a television writer and producer, most recently for The Librarians and Marvel's Cloak and Dagger.  She is one of the writers behind the runaway YouTube sensation The Lizzie Bennet Diaries, and authored its two tie-in novels.  In her vast spare time she is a bestselling author of historical romance, under the name Kate Noble. She lives in Los Angeles with her family.
Find out more about Kate at her website, and connect with her on Instagram, Twitter, and Facebook.
Tour Stops
Tuesday, March 17th: No More Grumpy Bookseller
Wednesday, March 18th: Stranded in Chaos
Monday, March 23rd: Reading Girl Reviews
Monday, March 23rd: Instagram: @sealedwithabook
Tuesday, March 24th: 100 Pages a Day…Stephanie's Book Reviews
Tuesday, March 24th: Broken Teepee
Wednesday, March 25th: Instagram: @wordswithrach
Friday, March 27th: A Chick Who Reads
Monday, March 30th: Instagram: @crystals_library
Tuesday, March 31st: BookNAround
Monday, April 6th: PhDiva