About Eat Sleep Work Repeat
• Hardcover: 320 pages
• Publisher: HarperOne (February 25, 2020)
"An important reminder of simple everyday practices to improve how we all work together, which will lead to greater team and individual happiness and performance. Great results will follow."—Jack Dorsey, CEO of Twitter and Square
"With just 30 changes, you can transform your work experience from bland and boring (or worse) to fulfilling, fun, and even joyful."—Daniel Pink, author of When and Drive
The vice president of Twitter Europe and host of the top business podcast Eat Sleep Work Repeat offers thirty smart, research-based hacks for bringing joy and fun back into our burned out, uninspired work lives.
How does a lunch break spark a burst of productivity? Can a team's performance be improved simply by moving the location of the coffee maker? Why are meetings so often a waste of time, and how can a walking meeting actually get decisions made?
As an executive with decades of management experience at top Silicon Valley companies including YouTube, Google, and Twitter, Bruce Daisley has given a lot of thought to what makes a workforce productive and what factors can improve the workplace to benefit a company's employees, customers, and bottom line. In his debut book, he shares what he's discovered, offering practical, often counterintuitive, insights and solutions for reinvigorating work to give us more meaning, productivity, and joy at the office.
A Gallup survey of global workers revealed shocking news: only 13% of employees are engaged in their jobs. This means that burn out and unhappiness at work are a reality for the vast majority of workers. Managers—and employees themselves—can make work better. Eat Sleep Work Repeat shows them how, offering more than two dozen research-backed, user-friendly strategies, including:
Go to Lunch (it makes you less tired over the weekend)
Suggest a Tea Break (it increases team cohesiveness and productivity)
Conduct a Pre-Mortem (foreseeing possible issues can prevent problems and creates a spirit of curiosity and inquisitiveness)
"Let's start enjoying our jobs again," Daisley insists. "It's time to rediscover the joy of work."
Social Media
Please use the hashtag #eatsleepworkrepeat, and tag @tlcbooktours, @harperonebooks, and @brucedaisley.

Purchase Link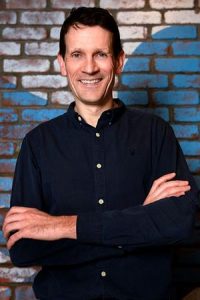 About Bruce Daisley
Bruce Daisley is the European Vice-President for Twitter and host of top business podcast Eat Sleep Work Repeat. He has worked for some of the world's biggest media companies, including Google and YouTube, and is dedicated to making work better and using evidence to devise creative solutions. He lives in London.
Find out more at the website eatsleepworkrepeat.com, and follow Bruce on Instagram and Twitter.
Tour Stops
Monday, February 24th: Living My Best Book Life
Tuesday, February 25th: Man of La Book
Wednesday, February 26th: Tabi Thoughts
Thursday, February 27th: Instagram: @books_with_bethany
Friday, February 28th: Write – Read – Life
Monday, March 2nd: A Bookish Affair
Tuesday, March 3rd: Run Wright
Wednesday, March 4th: bookchickdi
Monday, March 9th: PhDiva
Wednesday, March 11th: Orange County Readers
Thursday, March 12th: Palmer's Page Turners
Saturday, March 14th: Instagram: @wellreadtraveler
Monday, March 30th: Amy's Book-et List