About Home Truths
• Paperback: 480 pages
• Publisher: William Morrow Paperbacks (January 28, 2020)
International bestselling author Susan Lewis's riveting, unforgettable novel of a woman determined to protect her children—at all costs.
A mother's worst nightmare becomes a reality…
Angie Watts once had what seemed like an idyllic life: a house in a small town in the English countryside with her beloved husband Steve and their three adored children. She never could have predicted how her life would one day turn out.
When her oldest son, Liam, grows from a sweet-natured boy to a troubled teen, Angie's world begins to crumble. Expelled from school and disappearing from home for days on end, Liam falls in with a notorious local gang. After arriving home one day to find their 5-year-old son with a syringe Liam has left lying around, Steve makes a rash decision that will have lasting repercussions on their family.
Two years later, Steve is gone, Liam is missing, and with money running out, Angie and her other two children are on the brink of eviction. Then Angie is called into the police station and informed that there's been a murder—and Liam is a suspect. As Angie's desperation to save her family leads her to take drastic measures, her daughter secretly devises her own plan to save the family…which could put everyone in danger.
Alternating between Angie's blissful life as a young mother and her present-day nightmare, Home Truths is a searing exploration of the lengths one mother will go to survive and protect her children.
Social Media
Please use the hashtag #hometruths, and tag @tlcbooktours and @williammorrowbooks.

Purchase Links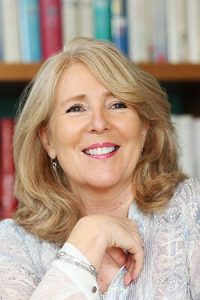 About Susan Lewis
Susan Lewis is the internationally bestselling author of more than forty books across the genres of family drama, thriller, suspense, and crime. She is also the author of Just One More Day and One Day at a Time, the moving memoirs of her childhood in Bristol during the 1960s. Following periods of living in Los Angeles and the South of France, she currently lives in Gloucestershire with her husband, James; stepsons, Michael and Luke; and mischievous dogs, Coco and Lulu.
Find out more at her website, and connect with her on Facebook.
Instagram Features
Tuesday, January 28th: Instagram: @jess_reads_books
Wednesday, January 29th: Instagram: @beritaudiokilledthebookmark
Thursday, January 30th: Instagram: @wordswithrach
Friday, January 31st: Instagram: @babygotbooks13
Saturday, February 1st: Instagram: @readingmama_reviews
Sunday, February 2nd: Instagram: @aprilsbookshelf
Monday, February 3rd: Instagram: @thebookclubmom
Tuesday, February 4th: Instagram: @shelovesthepages
Wednesday, February 5th: Instagram: @sarahandherbookshelves
Review Stops
Tuesday, January 28th: Into the Hall of Books
Wednesday, January 29th: Orange County Readers
Thursday, January 30th: Thoughts On This 'n That
Monday, February 3rd: Girl Who Reads
Wednesday, February 5th: Booked J
Thursday, February 6th: Stacy's Books
Friday, February 7th: Instagram: @jennsbookvibes
Tuesday, February 11th: Helen's Book Blog
Wednesday, February 12th: Book by Book
Wednesday, February 19th: Books and Bindings