About Ghosts of the Missing
• Paperback: 320 pages
• Publisher: Houghton Mifflin Harcourt (February 11, 2020)
In the vein of The Lovely Bones and The Little Friend, Ghosts of the Missing follows the mysterious disappearance of a twelve-year-old girl during a town parade and the reverberations of this tragedy throughout the town.
On Saturday, October 28, 1995, a girl vanished. She was not a child particularly prized in town…When questioned by reporters, those who'd known Rowan described her as 'quiet' and 'loner' and 'shy' and even 'awkward.' Words for pity.
Culleton, New York has a long history—of writers, of artists, and of unsolved mysteries. It's where Adair grew up before she moved to Brooklyn to try to make it as an artist. But after years away from her hometown and little to show for it, Adair decides to return. She moves back in to Moye House, the old mansion, and current writer's retreat, imbued with her family's legacy.
Ciaran is a writer staying at Moye House in the hopes of finally solving the mystery of what happened to Rowan Kinnane—his sister, and Adair's childhood best friend. As the two begin investigating, secrets long buried rise to the surface, complicating their sense of themselves and their understanding of what happened on that fateful day.
With her "knack for capturing heartbreaking moments with a gripping simplicity" (Village Voice), Kathleen Donohoe lures us into a haunting world of secrets and obsessions and shows just how far people will go in search of the truth.
Social Media
Please use the hashtag #ghostsofthemissing, and tag @tlcbooktours, @hmhbooks, and @kathleenmdonohoe.

Purchase Links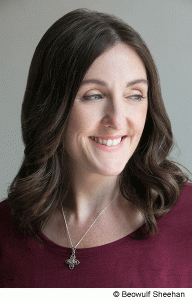 About Kathleen Donohoe
KATHLEEN DONOHOE is the author of Ashes of Fiery Weather. Her stories and essays have appeared in The Recorder, New York Stories, and Washington Square Review. She serves on the Board of Irish American Writers & Artists. She lives in Brooklyn with her husband and son.
Find out more about Kathleen at her website, and connect with her on Instagram, Twitter, and Facebook.
Tour Stops
Tuesday, February 11th: A Bookish Way of Life
Wednesday, February 12th: Write – Read – Life
Thursday, February 13th: Instagram: @jess_reads_books
Saturday, February 15th: Instagram: @lavieestbooks
Monday, February 17th: Jessicamap Reviews
Tuesday, February 18th: No More Grumpy Bookseller
Thursday, February 20th: Instagram: @beritaudiokilledthebookmark
Friday, February 21st: Kahakai Kitchen
Tuesday, February 25th: Instagram: @wordswithrach
Wednesday, February 26th: Instagram: @babygotbooks13
Thursday, February 27th: Instagram: @the.magicalpages
Friday, February 28th: All the Books and Chocolate
Sunday, March 1st: Girl Who Reads
TBD: Thursday, February 27th: Have Coffee Need Books