Join us for an Instagram tour for
Series: An Irish Village Mystery (Book 5)
Hardcover: 304 pages
Publisher: Kensington (February 25, 2020)
In a remote—and superstitious—village in County Cork, Ireland, Garda Siobhán O'Sullivan must solve a murder where the prime suspects are fairies . . .
Family is everything to Siobhán: her five siblings; her dear departed mother for whom the family business, Naomi's Bistro, is named; and now her fiancé, Macdara Flannery. So precious is her engagement that Siobhán wants to keep it just between the two of them for a little longer.
But Macdara is her family, which is why when his cousin Jane frantically calls for his help, Siobhán is at his side as the two garda rush from Kilbane to the rural village where Jane and her mother have recently moved. Unfortunately, tragedy awaits them. They find Jane, who is blind, outside the cottage, in a state. Inside, Aunt Ellen lies on her bed in a fancy red dress, no longer breathing. A pillow on the floor and a nearby teacup suggest the mode of death to their trained eyes: the woman has been poisoned and smothered. Someone wanted to make sure she was dead. But who?
Devout believers in Irish folklore, the villagers insist the cottage is cursed—built on a fairy path. It turns out Ellen Delaney was not the first to die mysteriously in this cottage. Although the townsfolk blame malevolent fairies, Siobhán and Macdara must follow the path of a murderer all too human—but just as evil . . .

Purchase Links
About Carlene O'Connor
Carlene O'Connor comes from a long line of Irish storytellers. Her great-grandmother emig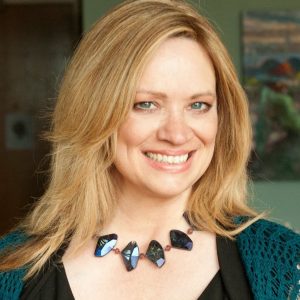 rated from Ireland to America during the Troubles, and the stories have been flowing ever since. Of all the places across the pond she's wandered, she fell most in love with a walled town in County Limerick and was inspired to create the town of Kilbane, County Cork. Carlene currently divides her time between New York and the Emerald Isle.
Connect with Carlene
Instagram tour:
Sunday, February 23rd: @tlcbooktours – giveaway
Monday, February 24th: @livingmybestbooklife
Monday, February 24th: @all.the.lovely.pages
Tuesday, February 25th: @irishgirliereads
Wednesday, February 26th: @crystals_library
Thursday, February 27th: @lowkey.bookish
Friday, February 28th: @pnwbookworm
Friday, February 28th: @jennblogsbooks
Saturday, February 29th: @bookclubwithbite
Sunday, March 1st: @_ebl_inc_
Monday, March 1st: @sarahs_reads