Join us for an Instagram tour for
Paperback: 336 Pages
Publisher: Kensington (December 31, 2019)
From the author of The Astonishing Thing and Something Worth Saving comes a tender, wise, and insightful novel of a family cat, a second chance, and the love that persists through the deepest heartache . . .
 
They say that cats don't like change. But Luna, an imaginative tabby, understands that sometimes it's necessary. When her owner, Annika, moved back to her small New England hometown six months ago along with her sixteen-year-old twins, Luna knew it was for the best. Ever since Annika's husband, Peter, died suddenly, the family has been floundering. Luna, too, is guilt-ridden, sure she could have done more to save her favorite person. Luna also knows something the others don't know. Peter's spirit is still with them, and Luna believes there is something he needs her help to do . . .
Annika has been struggling to move on. It doesn't help that her son, Donovan, blames her for his father's death. Peter always told Annika that they had the best love story going, yet the fact is that much of their story has been hidden away, even from their children. When Annika's first love, Sam, arrives to plow them out during an intensifying storm, the truth begins to emerge at last. And Luna—watchful and unwavering in her affection—may be her family's best hope of learning how to forgive and to heal . . .

Purchase Links
About Sandi Ward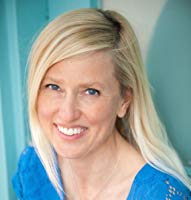 Sandi Ward writes books about love, family, forgiveness…and cats.
Sandi grew up in Manchester-by-the-sea, Massachusetts, and received her MA in Creative Writing at New York University. She's the author of book club novels published by Kensington Books, stories of dysfunctional families told from the point of view of the family cat. She's also a medical copywriter at an advertising agency. She lives on the Jersey Shore with her husband, teenagers, dog and a large black cat named Winnie.
Connect with Sandi
Instagram tour:
Sunday, January 5th: @tlcbooktours – giveaway
Monday, January 6th: @reading_with_nicole
Monday, January 6th: @lets_talk_books_and_cats
Tuesday, January 7th: @gfbookcatlover
Tuesday, January 7th: @_ebl_inc_
Wednesday, January 8th: @mixed_matched_socks
Wednesday, January 8th: @catsonbookshelves
Thursday, January 9th: @ifcatscouldread
Thursday, January 9th: @theliterarybirds
Friday, January 10th: @books.cats.n.tats
Friday, January 10th: @nurse_bookie
Saturday, January 11th: @bluntscissorsbookreviews
Sunday, January 12th: @bookswithbean