About Invisible as Air
• Paperback: 416 pages
• Publisher: William Morrow Paperbacks (September 24, 2019)
A provocative and timely new novel by the author of Inheriting Edith, one that will haunt you long after the final page is turned…
Sylvie Snow knows the pressures of expectations: a woman is supposed to work hard, but never be tired; age gracefully, but always be beautiful; fix the family problems, but always be carefree. Sylvie does the grocery shopping, the laundry, the scheduling, the schlepping and the PTA-ing, while planning her son's Bar Mitzvah and cheerfully tending her husband, Paul, who's been lying on the sofa with a broken ankle.  She's also secretly addicted to the Oxycontin intended for her husband.
For three years, Sylvie has repressed her grief about the heartbreaking stillbirth of her newborn daughter, Delilah. On the morning of the anniversary of her death, when she just can't face doing one…more…thing: she takes one—just one—of her husband's discarded pain pills. And suddenly she feels patient, kinder, and miraculously relaxed. She tells herself that the pills are temporary, just a gift, and that when the supply runs out she'll go back to her regularly scheduled programming.
But days turn into weeks, and Sylvie slips slowly into a nightmare. At first, Paul and Teddy are completely unaware, but this changes quickly as her desperate choices reveal her desperate state. As the Bar Mitzvah nears, all three of them must face the void within themselves, both alone and together.
Social Media
Please use the hashtag #invisibleasair and tag @tlcbooktours and @williammorrowbooks.

Purchase Links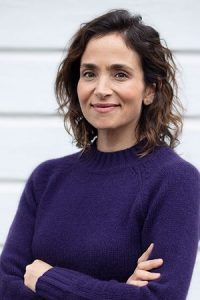 About Zoe Fishman
Zoe Fishman is the bestselling author of Inheriting Edith, Driving Lessons, Saving Ruth and Balancing Acts. She's the recipient of myriad awards, including a NY Post Pick.
She's been profiled in Publisher's Weekly and The Huffington Post among others. Her writing has been published in The Atlanta Journal Constitution as part of their moving "Personal Journey" series.
Zoe worked in the New York publishing industry for thirteen years. She was recently the Visiting Writer at SCAD Atlanta and currently teaches at Emory Continuing Education and The Decatur Writers Studio, at which she is also the Executive Director. She lives in Decatur with her family.
Find out more about Zoe at her website, follow her on Twitter, and connect with her on Facebook.
Instagram Features
Tuesday, September 24th: Instagram: @book.hang.o.ver
Wednesday, September 25th: Instagram: @jennsbookvibes
Thursday, September 26th: Instagram: @simplykelina
Friday, September 27th: Instagram: @tarheelreader
Saturday, September 28th: Instagram: @nerdybooknurse
Sunday, September 29th: Instagram: @beritaudiokilledthebookmark
Monday, September 30th: Instagram: @thebookclubmom
Tuesday, October 1st: Instagram: @rendezvous_with_reading
Review Stops
Tuesday, September 24th: A Bookish Way of Life
Wednesday, September 25th: Comfy Reading
Friday, September 27th: Instagram: @barkingaboutbooks
Sunday, September 29th: The Reading Corner For All
Monday, September 30th: Instagram: @readingmama_reviews
Wednesday, October 2nd: Iwriteinbooks's blog
Wednesday, October 2nd: Girl Who Reads
Friday, October 4th: Thoughts On This 'n That
Monday, October 7th: Instagram: @kraysbookclub
Tuesday, October 8th: Jathan & Heather
Wednesday, October 9th: Instagram: @beccasbookishlife
Thursday, October 10th: Stranded in Chaos
Friday, October 11th: she treads softly
Monday, October 14th: From the TBR Pile
Tuesday, October 15th: Instagram: @books_with_bethany
Wednesday, October 16th: Literary Quicksand