Join us for an Instagram tour for
and
Hardcover: 288 Pages
Publisher: Kensington (November 26, 2019)
In this intoxicating mystery by USA Today bestselling author Sarah Fox, a winter carnival becomes a recipe for disaster when a Shady Creek celebrity gets iced.
The Winter Carnival always brings holiday cheer, Christmas joy—and tourists with cash—to picturesque Shady Creek, Vermont. At the center of the glittering decorations and twinkling lights is booklover and pub owner Sadie Coleman, creating original cocktails, hosting a literary trivia evening, and cheering on her loyal employee Melanie "Mel" Costas as she competes in the ice carving competition.
But holiday cheer can't compete with former resident and renowned chef Freddy Mancini, who arrives with his nose in the air, showing off his ice-sculpting skills like a modern-day Michelangelo. During the artists' break in the night-long contest, Mel's tools disappear . . . and Freddy is found dead with her missing pick in his chest.
Although the police turn their attention to Mel, it seems everyone in town had a grudge against Freddy, including his assistant, his mentor, his former flame, and even his half-brother.
Faster than she can fling a Huckleberry Gin, Sadie finds herself racing to make sure the police don't arrest the wrong suspect—all while sharing a flirtation with local brewery owner Grayson Blake. Their chemistry leads to a heated rivalry at the hockey rink—and to the hot pursuit of a killer.

Purchase Links
Hardcover: 288 pages
Publisher: Kensington (December 18, 2018)
In the first in an engaging new mystery series from USA Today bestselling author Sarah Fox, the owner of a charming literary pub finds her fresh start on the rocks thanks to a case of murder.
Booklover Sadie Coleman knows that in life, as in fiction, the right setting can make a world of difference. The small town of Shady Creek, Vermont, seems like the perfect place to start over after losing her Boston job to a merger and her relationship to her ex's gambling addiction. She's bought and redecorated the old grist mill pub, transforming the Inkwell into a cozy spot where tourists and regulars alike can enjoy a pint or a literary-themed cocktail, or join one of several book clubs.
Little by little, Sadie is adjusting to the rhythms of her new home. Fall in Shady Creek is bookmarked by the much-anticipated Autumn Festival, complete with a pumpkin catapult competition and pie bake-off. Unfortunately, the season also brings an unwelcome visitor—Sadie's ex, Eric, who's angling for a second chance . . .
Before Sadie can tell Eric to leave, he's found dead near the Inkwell. When the local antique shop catches fire on the same night, it's clear the town is harboring at least one unsavory character. Now, with her Aunt Gilda, her friend Shontelle, and the pub's patrons all in the mix, Sadie must uncover the truth . . . before a killer declares last call.

Purchase Links
About Sarah Fox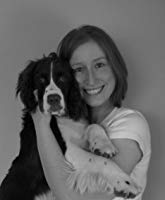 Sarah Fox is the author of the Literary Pub Mystery series, as well as the Music Lover's Mystery series and the USA Today bestselling Pancake House Mystery series. When not writing novels or working as a legal writer, she can often be found reading her way through a stack of books or spending time outdoors with her English Springer Spaniel. Sarah lives in British Columbia and is a member of Crime Writers of Canada. Visit her online at AuthorSarahFox.com.
Connect with Sarah
Instagram tour:
Sunday, December 1st: @tlcbooktours – giveaway
Monday, December 2nd: @amanda.the.bookish
Tuesday, December 3rd: @bookishconnoisseur
Wednesday, December 4th: @beardandbroad
Wednesday, December 4th: @bottleandabook
Thursday, December 5th: @coffeebookswinerepeat
Sunday, December 8th: @one_more_paige
Monday, December 9th: @libraryinprogress
Monday, December 9th: @bibliolau19
Monday, December 9th: @sarahs_reads
Wednesday, December 18th: @_ebl_inc_